5 surprising facts employers should know about voluntary benefits
Sponsored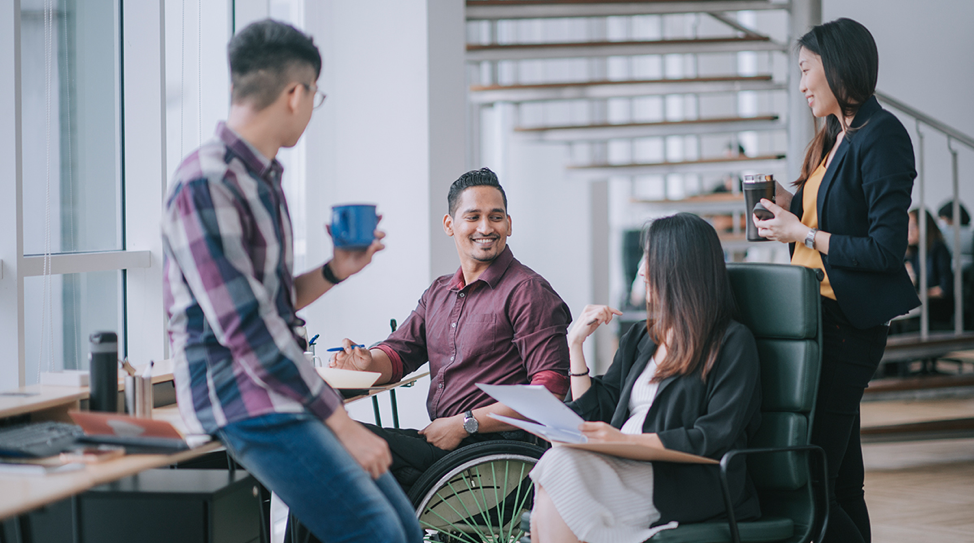 Voluntary benefits allow employers to prioritize preventive care and financial wellness for their employees, while still being favorable to their organization's bottom line. Sponsored content by Renaissance Life & Health Insurance Company of America
5 surprising facts employers should know
about voluntary benefits
By John Feeney, Vice President, Group Sales & Market Development, Renaissance Life & Health Insurance Company of America
Today's job market looks drastically different than it did a decade ago. It's increasingly competitive as the demand for talent grows. Life and work are more tightly connected, giving new value to flexibility, health and well-being. And as more employees and job seekers demand better pay and more customized benefits options, employers must find new ways to attract and retain top talent.
To do this, many employers are expanding their benefits offerings to include voluntary benefits like dental, vision, life and disability coverage. Voluntary benefits allow employers to prioritize preventive care and financial wellness for their employees, while still being favorable to their organization's bottom line. These benefits can be a win-win, and here are five surprising facts you may not know about voluntary benefits.
1.  You can offer voluntary benefits to your employees at little to no cost to your organization, and you don't have to be a large company to qualify.
Usually offered on a voluntary basis where they are partially or sometimes 100 percent employee-paid, voluntary benefits can be an affordable option for any size company — even small businesses. Certain voluntary benefits can even be paid for with pretax dollars, which means employers may pay less in payroll taxes.
Your employees can benefit too. Voluntary benefits typically allow employees to enroll in coverage at lower rates than they would pay as individuals, and can help them cover expenses that may not be paid for by other types of insurance. So even if employees pay some or all the premiums themselves, they may be getting a better deal.

2.  Voluntary benefits are increasingly driving whether employees stay with an employer.

As the demand for talent intensifies, retention matters more than ever. A recent survey found that three in four employees said voluntary benefits would affect their employer's ability to retain them, compared to 68 percent in 2020.

In today's employee-driven job market, employees who are resigning are not necessarily leaving the workforce. Instead, they are seeking better opportunities and migrating to organizations that they feel will better value them. Voluntary benefits allow employers to provide a more personalized, well-rounded benefits program that today's employees are looking for.
The addition of new voluntary benefits may also help offset any undesirable benefits changes — such as higher employee premium contributions and discontinued programs — while still being favorable to your organization's bottom line.

3.  Providing employees with dental and vision benefits may help you control your company's other group health costs.

Preventable chronic health conditions are a key contributor to the costs of health insurance premiums and employee medical claims, which are at an all-time high and continue to rise in the United States. One way employers may be able to help control overall group health insurance costs is by providing employees access to preventive dental and vision care.
An essential tool in early disease detection, routine dental exams can uncover more than 100 different diseases, including heart disease and diabetes. Similarly, an eye exam can help spot early signs of chronic conditions like high blood pressure, heart disease, diabetes and high cholesterol.

These serious health conditions may drive expensive medical claims and can cost companies billions every year. By providing access to preventive care, dental and vision benefits can help employees take control of their health and catch potential health problems early — before they become more painful and costly.
4.  In a recent survey, 31 percent of consumers said they are more likely to buy life insurance because of the pandemic
COVID-19 has increased awareness of the value of life insurance and its potential impact on families' financial security, making it a key part of a strong benefits package. This is especially important given that 42 percent of Americans would face financial hardship within six months if the primary wage-earner were to die unexpectedly.
By offering group life insurance, employers can provide employees with valuable income protection that is increasingly appealing in today's uncertain world. It's one way to demonstrate your organization cares about employees on a personal level, and may help improve overall satisfaction and retention. 
5.  The chances of missing work due to illness, injury or pregnancy may be greater than most realize.
Each year, around five percent of working Americans will experience a short-term disability (six months or less) due to illness, injury or pregnancy. And one in four of today's 20-year-olds can expect to be out of work for at least a year due to a disabling condition before they reach retirement age.
For many employees, income or job loss due to a short- or long-term disability could be financially devastating. Disability insurance provides valuable income protection by covering a portion of employees' paychecks while they are unable to work. This can make a significant difference in employees' lives. At the same time, it can be a relatively low cost for the employer — especially if you offer it as a voluntary benefit that employees can opt into and pay for themselves.

It's no secret that voluntary benefits may play a vital role in your company's ability to recruit and retain high-performing talent, especially in today's hot job market. Employees and job seekers increasingly want flexibility and financial security. They want to work for companies they feel value them, both professionally and personally. Voluntary benefits can be a simple and cost-effective way for businesses of all sizes and budgets to appeal to these desires and remain competitive in the race for top talent.
To download free resources and find out more about the advantages of adding dental, vision, life and disability coverage to your employee benefits mix, visit RenaissanceGroupBenefits.com.
Author Bio

John Feeney is vice president, group sales and market development for the Renaissance Life & Health Insurance Company of America. With more than 30 years of sales and training experience, Feeney has a robust background in marketing employee benefits for organizations of all sizes.