Coloring the world
December 29, 2009 7:00 AM
by Joan Tupponce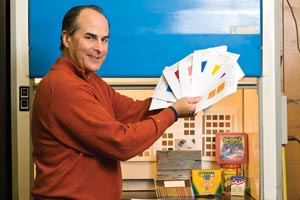 The next time you see a Crayola crayon, think Virginia. No, the crayons aren't made here, but the colors are.
Hoover Color Corp., a family business in Pulaski County, makes colors from natural and blended iron oxide pigments that are used in everything from furniture finishes to cement pavers and architectural paint. It also makes the midnight blue, purple pizzazz, burnt sienna and other hues from a 120-color palette used in Crayola crayons throughout the world.
"They are our biggest single customer," says Chuck Hoover Jr., the company's chief operating officer.  "They use our colors to make crayons, water colors, finger paints, markers and more."
So, how did one of the world's biggest color makers end up in Hiwassee?  Hoover Color moved to the tiny Southwest Virginia town after it bought American Pigment Corp. in 1970. The factory had supplied Hoover with iron oxide pigments. "We had always bought a lot of raw materials from the factory, so when it came up for sale it seemed like an ideal acquisition," says Hoover.
Charles Hoover, his great-grandfather, founded Hoover in 1923. The company's plant was located in Irvington, N.J., before the move to Virginia. "We migrated to Virginia over a period of 15 years," says Hoover, who came to Hiwassee in 1982.
Hoover Color now owns 3,000 acres of land in Hiwassee. The acreage includes production facilities, laboratories, corporate offices and mine sites. The company mines low-grade iron ore limonite, a naturally occurring material that can be processed into pigments (very fine powders). "Basically we make dust here," Hoover says.
The company employs about 50 people. Two-thirds work in the plant. The remaining employees work in technical and application services or sales and marketing. Hoover likes the fact that Hiwassee is located near Interstates 81 and 77. "That's a big advantage logistically," he says, adding that the location helps make shipping convenient.
Hoover enjoys the beauty of the area. Pulaski County is in the New River Valley between the Blue Ridge and Shenandoah mountains. "You can see the river outside our office windows," he says.
Each afternoon he tries to find time to ride his mountain bike in New River Trail State Park near Hiwassee. The trails are only 500 yards from his office. "It's a great way to clear my mind," he says.
The county's economy
Manufacturing plays a significant role in Pulaski's economy. The county houses some of the larger employers in the region such as Volvo Trucks North America. The 1.6-million-square-foot assembly plant in Dublin is the largest Volvo truck-manufacturing facility in the world.
Other large employers include James Hardie, which produces fiber cement siding and backerboard, and Bucyrus International, a mining equipment manufacturer. Pulaski Industrial Park and the New River Valley Commerce Park provide manufacturing sites for companies moving to the area. Pulaski's economy also includes agriculture and tourism.
Where to eat
Pulaski is home to a number of restaurants including El Ranchero, a Mexican eatery that serves up a Quesadilla Ranchero to remember, and Kimono Japanese Cuisine. The River Company, a micro-brewery and steak house serves locally raised, dry-aged beef along with beer brewed on the premises. Chuck Hoover also enjoys eating at Fatz Café, a regional chain that has "good ribs, burgers and steaks as well as great desserts."
Where to stay
Visitors to the Pulaski area who enjoy staying at bed and breakfasts might check out the Inn at Riverbend with wraparound decks and views of the Appalachian Mountains and the New River. Overnight stays include a full breakfast. Nesselrod on the New is also located in the New River Valley. The five-room B&B provides a three-course gourmet breakfast. The same amenity can be found at Rockwood Manor in Pulaski. The B&B, built in the late 1800s, features porches, fireplaces and large suites with private baths.
Reader Comments