Sawmill weathers storms through the years
December 29, 2012 3:03 PM
by Veronica Garabelli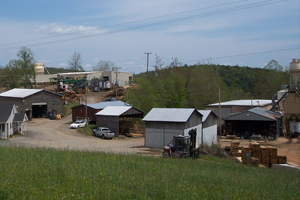 On the night of April 23, 2009, Bruce Griffith was at home watching TV when his sister called, crying. The family's sawmill in Woolwine was on fire. The loss was later estimated to be $3 million, and 35 workers were out of a job.
"I felt devastated," says Griffith, president of the Griffith Lumber Co. Inc., which produces lumber, stacking sticks, mulch, chips and sawdust in Patrick County. "We had a lot of workers that helped us build the business that did not have a job, and I knew those families would be hurt, especially in the economy we have now. My first thought was 'I want to build back.'"
Within 30 days, Griffith Lumber Co., one of the largest employers in Patrick County, was able to put most of its employees back to work. The company leased a sawmill in Floyd County and put some employees there while others helped clean up the fire debris in Woolwine. Two years later, the Griffiths were able to reopen the Woolwine sawmill.
"I felt really good, there's no doubt about that," Griffith says about the mill's reopening in September 2011. He even saved the first board produced at the new mill. It hangs in his office today.
This was not the first time Griffith Lumber faced challenges. Griffith's dad started the company in 1933. By 1972, the company had been out of business for three years when Griffith and his brother Bill decided to buy part of the business. Two years later, the Griffiths were able to build a new, modern sawmill.
Looking toward the future, Griffith would like to add a kiln to dry wood. He is optimistic about the business, although he worries about the effects of government regulations.
What would Griffith's father think of the business today? "I think he'd be very pleased," Griffith says.
Reader Comments
There are no comments for this entry