Award caps Rosetta Stone's high-growth year
January 27, 2010 6:00 AM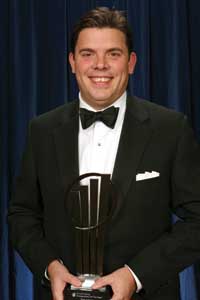 After seeing sales grow from $10 million to $250 million in six years, Rosetta Stone executives didn't need outside validation that the Arlington-based company was making the right moves. Nonetheless, they got a big pat on the back in December when Tom Adams, the company's president and CEO, was named the 2009 Ernst & Young Entrepreneur of the Year.
Adams was chosen as the overall winner from 400 regional award recipients because Rosetta Stone is changing "the way the world learns language, a critical skill in today's global economy," says James S. Turley, chairman and CEO of Ernst & Young LLP. The professional services firm also picked Adams as its Retail and Consumer Products category winner.
Born in Sweden and raised in France and England, Adams has a long-held passion for languages. That doesn't mean, however, that he always found the process of learning a new language easy. When he moved to the United Kingdom as a child, he explains, "I had to learn English from scratch, and it was frustrating at times. And so now when I'm trying to grow Rosetta Stone, I know it's all to help make the world a better place for folks like myself when I was 10 years old."
Named CEO of what was then Fairfield Language Technologies in 2003, Adams moved the company headquarters from Harrisonburg to Arlington, reorganized its sales force, developed a scalable business model and rebuilt the research and development team.
He also renamed the company in honor of the 19th century archeological find that enabled scholars to decipher Egyptian hieroglyphics. The Rosetta Stone approach to language instruction is to immerse students in dialogue and culture, rather than rely on memorization.
The company experienced phenomenal response last spring to its initial public offering, raising 40 percent more capital than expected despite a tough economy and a shaky stock market.
Adams says that Rosetta Stone has managed its growth spurt with a bottom-up culture that encourages employees to follow their "entrepreneurial zeal" and allows them "speak out and speak up." Maintaining that culture is the company's top priority, he says.
"We're essentially on the same page about how we work with each other and what kind of atmosphere we want to have, and so we don't waste time on nonsense politics and nonsense hierarchies and things like that," Adams says. "People are much more oriented in their work through principles and values that we've developed as a team."
That cohesiveness will be critical, Adams adds, as Rosetta Stone moves forward in its next goal: To take its business global and grow annual sales to more than $1 billion.
Reader Comments
There are no comments for this entry