Hugh Keogh: Steward of Virginia's economy
Retiring CEO helped keep business high on the political agenda
April 28, 2010 11:04 AM
by Robert Powell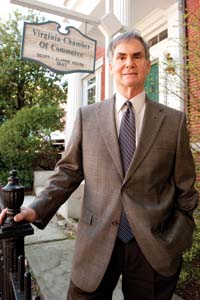 Hugh Keogh, the president and CEO of the Virginia Chamber of Commerce, is retiring at the end of next month after a 40-year career as a leading advocate for business in the commonwealth.
Before joining the chamber, the former Navy officer had directed a regional economic development organization in Hampton Roads and the state's economic development department.
During Keogh's 18-year tenure, the Virginia chamber has been much more than a watchdog for business interests at the General Assembly. In the economic doldrums of the early 1990s, the chamber assembled a statewide group of strategic thinkers and produced a blueprint for economic development called "The Economic Vision for Virginia."
Later the chamber housed and managed the Urban Partnership, in which business and municipal leaders teamed up to focus on the needs of Virginia cities.
In 2004, the chamber shocked conservative members of the General Assembly when it backed Democratic Gov. Mark Warner's plan to raise the general sales tax a half penny. "The chamber board debated that position very intensively and ultimately voted to support the half penny because they truly believed that Virginia needed more revenue for its core services," Keogh recalls. "We were on the front page of The Washington Post the day after that position was announced. We lost some members because of it. We made some enemies in the Virginia General Assembly. But it was the right thing to do, and we feel good about that."
On the other hand, the chamber fought efforts of another Democratic governor, Tim Kaine, to expand the categories of workers eligible for unemployment insurance so that the state could receive $125 million in federal stimulus money. "After that one-time jolt of money, the employer community would be left holding the bag to pay for it," says Keogh.
In an interview at his Richmond office, Keogh reflected on his years at the chamber and his experience with nine Virginia governors.

VB: What do you see as the biggest threat to the growth of the Virginia economy?
Keogh: Right now I think there are two, and the first is transportation infrastructure and the fact that Virginia has had no significant increase in revenue for transportation infrastructure since 1986.
The second issue is work-force development. About 15 years ago, not long after I took this job, the chief determinant of where business would go and where business would stay began to be access to the good people, to the best and the brightest of the technically competent, technically skilled, computer literate and able work force. In the earlier days, those location factors had been proximity to the interstates, cost of doing business, tax policy and so forth. But that really did evolve starting in the early '90s, and today there is no doubt that the chief criterion for where business will locate and where it will remain is its ability to get the right people.
So we have an infrastructure concern with transportation, and we have a policy and adaptation concern with whether we're generating the skilled people that business needs to be successful. And it's not just a Northern Virginia or an Eastern Virginia problem. It's a statewide concern.
VB: Virginia has been rated as the best state for business for four years straight [by Forbes.com]. Is that a deserved accolade?
Keogh: Absolutely. If you measure Virginia's policy impact on balance as a business-friendly location, it meets nearly every test. The chief one it doesn't meet is that transportation infrastructure situation. But [in terms of] balanced tax policy, balanced regulatory policy, high quality of life, geographic location and the temperate nature of the climate, etc., it is a very appealing location for business. And as long as we adapt properly to the needs for more transportation activity and work-force development, I think we'll continue to do very well ...
And I might add to that, we operate both for existing industry and prospective industry in the most competitive region in the country for economic development activity. The U.S. Southeast for probably four decades now has led the nation in job growth, and the states are mature, generally well-funded and receptive to economic development opportunities. And that's the environment Virginia has to operate in. So we've got to be at the top of our game every day.
VB: You've been a close observer of Virginia politics and its governors for some time. What is the most important thing that a governor can do to help business in the state?
Keogh: Let me answer that in two ways. First, from an economic development standpoint, the governor of Virginia is the chief salesperson for the commonwealth. And so he or she must be accessible and have a certain fire in the belly for selling Virginia and closing the deal. And that requires the governor to have economic development high on the priority list.
From the existing industry standpoint, there has to be a mindset and an awareness that existing companies in Virginia are fueling the economy and providing the jobs and the tax base that create that quality of life that we're all so happy about and so proud of in Virginia. And [the governor] shouldn't take that for granted. There is no trend of companies leaving Virginia because of dissatisfaction. But companies perhaps have not expanded to the level they could, or have not always felt that warmth and welcoming spirit in Virginia that they need to feel from the administration as well as from other organizations like my own and the advocacy groups.
And so a mindset that is keenly sensitive to the needs of the existing business base is very important for the governor to maintain and instill that culture throughout the administration.
VB: What is the biggest concern of your membership?
Keogh: Every membership survey we do among both small and larger companies indicates that the rising cost of health care is the chief concern of our members. And a shrinking number of those members is able to provide health-care coverage to its employees and their families. So this current bru-ha-ha over health care is real. And the nation needs to do something about it, but to do it in a constructive fashion in which health-care coverage is more affordable and more accessible, particularly to the small- and medium-[size] businesses.
I think it's inevitable that there will be a certain burden on the employer community to provide benefits. And those benefits need to be priced at a level that doesn't put the company out of work or cause them not to offer them in order to survive.
VB: What do you plan to do in retirement?
Keogh: Well, I want to be a resource. I may do something in the classroom. I may do some economic development consulting. But I don't have any fire in my belly to manage something or to run something. I've been doing that a long time. And I'd like to be a resource a little more on my own pace, my own terms and be helpful to Virginians in one way or another. But I think for the first few months, we won't do much of anything.
Read a full transcript of our interview with Hugh Keogh.
Tweet
Reader Comments
There are no comments for this entry