Shedding the TARP
July 29, 2009 12:00 AM
Bankers were just beginning to think they had won a vote of confidence from the federal government when the Obama administration proposed a sweeping set of financial reforms.
The proposals are getting a chilly reception in Virginia, where bankers warn that the federal cure may be worse than the problems it seeks to attack. "The danger is that it will go too far as an overreaction to recent events and thereby choke our future economic growth," says Bruce T. Whitehurst, president and CEO of the Virginia Bankers Association.
But banks in Virginia and around the country may face bigger threats than federal bureaucrats in coming months. They may need more federal funds if the recession drags on and provokes a wave of defaults on commercial real estate.
"Commercial real estate and development lending and concentrations are areas we regulators have been concerned about and closely monitoring for some time now, and we have been paying particularly close attention to this in our banks," says Joe Face, commissioner of the State Corporation Commission's Bureau of Financial Institutions. "In distressed economic times, this area of lending can have significant effects on financial institutions, due to the large size of many of the credits."
The good news-bad news scenario for the banking industry developed in June when, after dragging its feet, Treasury finally agreed to accept $68.3 billion from 10 big banks to repay funds distributed through the much-criticized Troubled Asset Relief Program (TARP). The banks included McLean-based Capital One Financial Corp., now the nation's eighth largest bank. Treasury had earlier agreed to accept $1.9 billion in repayment from 22 community banks.
Capital One repays $3.55 billion
The move suggests that the Obama administration thinks banks are getting healthy again. For months, many banks had been eager to return the money, which Treasury had distributed with the hope that it would stimulate new lending. Some banks worried about intrusive governmental input on issues such as executive pay, while others fretted over the stigma that accepting the money might bring.
Within a week of Treasury's announcement, Capital One repaid its TARP money — $3.55 billion, the largest chunk given to a Virginia bank. Richard D. Fairbank, Capital One's CEO and chairman, said at an investors' conference in May that repaying the TARP money and the associated warrants would eliminate $250 million a year in preferred stock dividends. "Removing the uncertainty of potential future TARP restrictions reduces risk, enhances our competitive position and increases our ability to focus on aggressively and decisively managing the company through the downturn for the benefit of shareholders," he said.
So far, two other Virginia banks — Bluefield, Va.-based First Community Bancshares Inc. and Midlothian-based Village Bank and Trust Financial Corp. — have expressed an interest in repaying TARP funds early, according to SNL Financial, a Charlottesville-based distributor of financial information.
First Community Bancshares, which received $41.5 million in TARP funds, has raised $62 million in new common equity. While TARP was a useful buffer during the worst of the downturn, the bank is eager to repay the funds. "With the new common equity, we're well-capitalized and we don't need a federal investment," says John M. Mendez, the bank's president and CEO. Early repayment is a clear sign of the bank's fiscal health, he adds. "We're very confident in our capitalization, and we're positioned to grow and thrive."
In all, 23 public and private financial companies based in Virginia received $4.1 billion in TARP funds.
While the TARP program "has strengthened the capital position of the banks that have received the funds," it's understandable that they would like to repay the money as soon as possible, Face says. "It is difficult to run any business, much less a heavily regulated business like a bank, in an uncertain environment. It is a given that the economy is uncertain, but coupled with uncertainty in the regulatory arena, it makes running a banking business that much more difficult."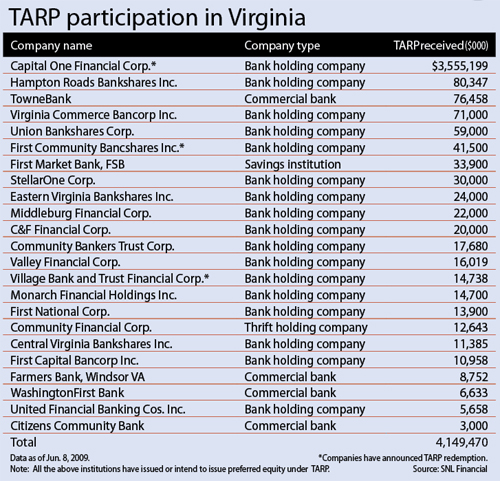 Positive indicator
The early repayments — driven in part by impressive new private capitalization and rising stock prices — are a strong indicator that the banking sector is recovering, Whitehurst says. "We're also seeing community banks [raising capital]," he adds. "In September, when the Treasury decided to use TARP to encourage investments in banks, there were virtually no options to raise capital in the private sector. Now we're seeing significant interest in the private sector for raising capital, and you'll see that trend continue."
But if banks have begun to peek out from under the TARP program, they have not escaped the increasingly long reach of federal regulators. The Obama administration's financial reform plan, announced in June, would expand the Federal Reserve's regulatory authority over banks that are so large their failure could threaten the economic system. The plan would also require large financial institutions such as Citigroup to maintain higher capital reserves and subject themselves to increased oversight. In addition, the plan calls for creating a new regulatory agency to monitor mortgages, credit cards and other kinds of consumer debt. It would also require companies to retain at least 5 percent of the mortgages they issue.
So far, congressional reaction has been lukewarm. Some politicians, including Virginia's Sen. Mark Warner, have expressed concern about the increased powers the Federal Reserve would have in overseeing systemic risks.
"The Federal Reserve's primary responsibility is to conduct monetary policy to achieve twin objectives: price stability and full employment," Warner noted in an op-ed column in the Washington Post. "The qualifications and experience required to tackle monetary policy differ from those needed to regulate complex financial institutions, including securities and insurance firms. It is unlikely that the best person for each job would consistently be the best person for both."
Warner supports the creation of a Systemic Risk Council with a chairman appointed by the president and confirmed by Congress. Its members would include the Treasury secretary, the Federal Reserve chairman and other regulators. This organization "would be much more likely to stop the next crisis," Warner says.
Virginia bankers also have their doubts about the Obama proposals. "Banks are wary of reforms that go beyond systemic risk, resolution and applying more consistent regulation across the spectrum of financial services," says Whitehurst, the head of the Virginia Bankers Association. New regulatory agencies could mean higher taxes as well as higher operating costs for banking, which would be passed along to consumers, he adds.
Real estate loan defaults
Even if the administration and Congress can find common ground on regulatory reform, the banking industry's woes may not be over. A study conducted by the Wall Street Journal suggested that losses from defaults on commercial real estate loans could top $100 billion by the end of 2010 if the economy worsens.
Analysis conducted by SNL Financial suggests that small commercial banks in the U.S. could be hit disproportionately hard by bad commercial real estate loans "in part because their commercial lending portfolios are higher than they are at bigger banks," says Kee Han, a bank analyst with SNL. "If their reserves can't cover bad loans, they'll have to resort to accessing capital." And that, in turn, could translate into fewer banks repaying TARP money early, after all.
Banks in Washington, D.C., have portfolios that are more heavily tilted toward commercial real estate than any state, Han says. Virginia, on the other hand, is in the middle of the pack in comparison with other states. That position should help the commonwealth's banks weather the storm, perhaps without another TARP.
Tweet
Reader Comments
There are no comments for this entry