Searching for clarity
401(k) plans put the onus for retirement investing on the employee
September 29, 2011 6:00 AM
by Doug Childers
Photo by Rick DeBerry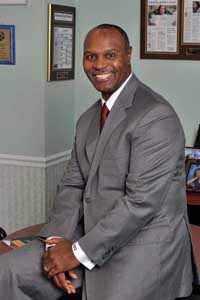 Recent stock market volatility has reminded investors of a time that they would rather forget — the 2008-09 financial crisis that caused stock prices to fall by more than 50 percent.
Market rollercoaster rides are unnerving especially for the sizeable segment of today's work force whose retirement dreams rest on the performance of their 401(k) plans. Most white-collar employees as well as some blue-collar workers now have such retirement plans through their employers, experts say. Among baby boomers, many of whom are now reaching retirement age, "the 401(k) plan is the primary vehicle for retirement," says Matt Thornhill, president of the Boomer Project in Richmond.
Simply having a 401(k) plan, however, doesn't guarantee a comfortable retirement. It can be a great investment vehicle "if you're a savvy investor and have the wherewithal to hire a professional," says Aaron Smith, president of Henrico County-based A.W. Smith Financial Group Inc. But if people treat it like a savings account and not an investment to be managed, "that 401(k) plan can be a disaster."
Managing retirement investments successfully takes careful, long-term planning. "You need to create a roadmap for your retirement because when you have a bad market, you start to question everything," says Kelly Campbell, principal of Alexandria-based Campbell Wealth Management. "That roadmap will give you clarity."
Since a 401(k) plan puts the onus for retirement investing on the employee, finding clarity can be a challenge.
Pension plans and gold watches
Planning for retirement didn't always look like this.
Decades ago, employees were likely to stay with a single company for most of their careers, and many businesses offered pensions as a benefit to faithful employees upon retirement. Pension payments, which retired employees received for the rest of their lives, were based on the number of years they had worked for the company as well as their salaries and ages.
As the U.S. population began living longer, though, those guaranteed-for-life pension plans became prohibitively expensive to maintain. As pension plans became popular in the private sector, a male born in the U.S. in 1950 had a life expectancy of 65.6 years, according to the U.S. Census Bureau. (The average life expectancy for a female born that year was 71.1.) By 1980, the life expectancy had climbed to 70 for men and 77.4 for women.
Those extra post-retirement years proved costly. "Employers wanted to save money, and retirement expenses were a big line item," says Justin Fulton, principal/client strategist at Signature, a wealth management firm with headquarters in Norfolk.
This is where the 401(k) plan steps onto the retirement stage. Introduced in 1978, its popularity grew in the 1980s as companies began to shift the burden of saving for retirement onto employees.
Unlike pensions, most 401(k) plans require employees to contribute a percentage of their pre-tax earnings toward their retirement. Some employers will match the employees' contributions up to a set amount. While the employer often administers the plan, the employee can select from a variety of options that include stock mutual funds, bond mutual funds and money market investments.
Today, many companies have phased out their pension plans in favor of 401(k) plans. "All of my clients working for for-profit companies have a 401(k) plan at their disposal," says Janet Benedetti, a certified financial planner in Ameriprise Financial's Midlothian office. "And those working for nonprofits have the equivalent." A few large companies such as Altria Group, the parent company of Philip Morris USA, still maintain a pension plan as well as a 401(k) plan, but "they're the exception," she adds.
The trend away from the "no strings attached" pension plan is even making it to the public sector. In December, Gov. Bob McDonnell proposed that Virginia's state workers contribute 5 percent of their salaries toward their pension plans, thereby making them share in the burden of saving for their retirement. The contribution serves as "an insurance premium to keep the state pension plan solvent based on the shortfall of funds in the plan," says Isaac Wright, president and CEO of Chesterfield County-based Financial Dynamics and the Estate and Elder Planning Center of Virginia.
Recent market woes might accelerate Virginia's shift away from a traditional pension model. In the wake of market volatility during the past two months, the assets for the Virginia Retirement System, which administers the commonwealth's pension plan for state employees, were valued at approximately $51.3 billion on Aug. 12, down 5.9 percent from $54.5 billion on June 30.
Soon, the pension plan, public and private, may go the way of the proverbial gold watch.

How much do you need to retire?
One of the pension plan's benefits is its ability to take the emotional factor out of retirement planning, says Smith of the A.W. Smith Financial Group. By comparison, a 401(k) plan requires individual investors to make tough, informed decisions about their portfolios. (Which of the many investment options should you choose, for example?) It also occasionally requires nerves of steel (witness the tribulations caused by recent market fluctuations).
Because individuals may borrow from their 401(k) plans, they also offer a dangerous temptation. "People use their 401(k) as a piggy bank, and it depletes their ability to retire," Wright says. Leaving your employer before repaying the loan balance also "could trigger taxes and an early withdrawal penalty," he adds.
The benefits of investing in a 401(k) plan are considerable, though. "It's a fabulous tool to build up a nice nest egg because you invest it before you get that paycheck, out of sight and mind," Benedetti says. "If you're a disciplined investor, you can create a large portfolio."
The details of a 401(k) plan can get complicated, but the overall strategy is fairly simple: Start investing in a 401(k) as soon as possible, and contribute as much as you're allowed. As the tortoise demonstrated in Aesop's fable, slow and steady wins the race. "Start early and get in the habit of contributing the maximum allowable each year," Signature's Fulton says. "The majority of people don't follow that advice, but it's important. Contributing more now is better than increasing your annual contribution percentage over time because the money has more time to compound and grow."
If you manage it well, compound growth could dwarf your own contributions. "We had one client who put [a total of] $300,000 into his 401(k), including matching funds, and after 30 years, he had $2.3 million," says Campbell of Campbell Wealth Management.
That's an impressive number, but is it enough? How much, exactly, do you need to retire comfortably? "For every $1 million you have in retirement savings, you'll be able to take out $40,000 to $50,000 a year" after retiring, Campbell says. "So if you need $100,000 a year in retirement, you'll need $2 million in savings."
To reach those figures, many experts today recommend putting away 15 percent of your salary, if you can afford it. "If someone is within five to 10 years of retirement, and they are not as prepared as they should be, 15 percent might not do it," Benedetti says. "But if you have 15 to 20 years ahead and your income graduates up, 15 percent is strong."
Experts also recommend saving for retirement through two or three different plans. First, contribute as much to your 401(k) plan as your company allows. Then consider contributing to a Roth IRA, which offers tax-free withdrawals in certain situations — for example, after the account has been open five years or if you want to withdraw the growth portion above principal after you've reached the age of 59½. A Roth 401(k) plan, which combines features of a traditional 401(k) plan and a Roth IRA, might be attractive, too.
"It used to be that saving money before income taxes was a smart trade because it allowed you to pay later, presumably at a lower tax bracket," Benedetti says. "That's not necessarily a good idea now. So having a Roth IRA, Roth 401(k) or other tax-free savings as well as a 401(k) is a good way to hedge your bets."
Maxing out your 401(k) contributions and putting money away in a Roth IRA are especially important in an economic environment that offers volatile equity returns and low interest rates, Fulton says. "You need to save more to live the lifestyle you desire in retirement."
Saving steadily from early in your career is important, but how you invest those savings should change over time. "A young person ought to have their portfolio growth-oriented, using a variety of stocks," Benedetti says. "As that person reaches retirement, he should place more emphasis on safer, less volatile and income-producing investments. This has traditionally been bonds."
Annuities, which guarantee income, can also be attractive, Wright says. "People at or near retirement simply do not want to deal with stock market volatility, and the annuity acts as an insurance policy against this."
If you've planned for retirement well, you'll be focused on cash flow when you're near retirement, and market disturbances won't have as significant an impact on your retirement savings. "We don't have people [near retirement] too heavily invested in the market with money they need to pay the bills," Wright says. "They have their income needs met for eight to 10 years" through annuities and a blend of stock dividends, bonds and master limited partnerships.
That doesn't guarantee your retirement plans will go smoothly in today's economy, though. "I have as clients a husband and wife who were looking to retire and move to Florida," Wright says. "But the assessment on their house was $70,000 lower than they were expecting, so they're staying in Richmond."
The couple's experience isn't unusual, he adds. "The stock market hasn't been the cause for people putting their retirement move on hold — it's the housing market. Many people are stuck because they can't get the value for their house."
But even in today's austere "do-it-yourself" economy, nobody expects you to solve that problem on your own.
Tweet
Reader Comments
There are no comments for this entry