Rosetta Stone IPO has investors talking
May 28, 2009 12:00 AM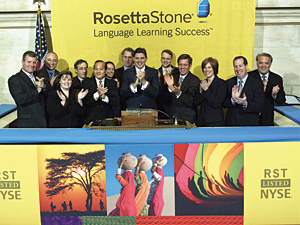 Translate it however you want. Rosetta Stone's decision to go public during a recession turned out to be "fantastico." The Arlington-based language instruction company proceeded in April with its long-planned initial public offering. The offering of 6.25 million shares soared from an initial price of $18 a share to more than $25 by day's end. The next day share prices jumped another 40 percent.
The IPO is not the first time that Rosetta Stone has bucked conventional wisdom. The company was founded on the premise that picking up a foreign tongue should be fun and easy. Its software products offer an intuitive approach to language instruction known as "dynamic immersion." While reading a translation, students watch a video of people speaking a language. The company says that, using this procedure, its customers pick up a language as small child would learns its first tongue.
Rosetta Stone doesn't always get an "A" from other language teachers, who claim its method lacks cultural perspective and linguistic nuance. The company's customers, however, are believers. Rosetta Stone, founded in 1992, has been on a sharp growth curve during the past five years. Sales have jumped from $25.4 million in 2004 to $209.4 million last year.
Customers can choose from 31 languages, including Arabic, Hindi and Pashto. Rosetta Stone sells through stores, but it also has been awarded contracts by educational institutions, corporations and government agencies. Prices range from $200 for a basic level course to more than $500 for an advanced course.
Rosetta Stone's revenue soared 41 percent in the first quarter. It reported a net income of $3.2 million, compared to a loss of $432,000 for same period the year before.
Tom Adams, Rosetta Stone's CEO, expects growth to continue as the world goes through financial and economic shifts. "We live in an increasingly multicultural society where the globalization of business and leisure is a reality," he says, "We have only just begun to tap the significant consumer language learning market."
Tweet
Reader Comments
There are no comments for this entry