Preparing for the worst
Hospitals and businesses put their flu plans in action
October 28, 2009 6:00 AM
by Robert Burke
Ever since the H1N1 flu reached U.S. shores last spring, Dr. Gloria Addo-Ayensu has been pushing the value of prevention to anyone who will listen. The director of the Department of Health for Fairfax County has talked to scores of business and community groups, as well as doctors and educators, warning them that a flu pandemic is a serious threat.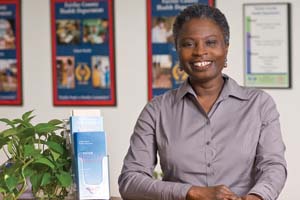 She's held a dozen business workshops to talk about how to prepare for H1N1, a strain of influenza commonly known as "swine flu" that was declared a pandemic last June by the World Health Organization. Small-business owners in particular have gotten a severe warning. It doesn't matter whether your company is big or small, Addo-Ayensu tells them, "You must be ready if you and your workers get sick." And whatever you do, she adds, don't let the flu shut you down.
"The key is to keep afloat. When you have to close for any period of time, reopening is very difficult. Even if you have to operate half time, it's better to keep open," advises Addo-Ayensu. "A lot of small businesses still don't know they're vulnerable. We need to get the message out that it's not going to take much to cripple them."
Every year brings another influenza outbreak, but the H1N1 is different. In a typical outbreak of a seasonal flu, 5 to 20 percent of the population might be affected; and it can be deadly — about 36,000 people a year in the U.S. die from seasonal flu. But the H1N1 flu could have a wider impact, spreading to 30 percent or more of the population, because most people don't have immunity to the virus through a vaccine or prior exposure.
The potential for widespread illness threatens economic disruption. Because health experts have been so certain of a coming outbreak, they have spent the months since last spring trying to minimize the effect.
Virginia health officials aren't willing to guess publicly how far the virus will spread. "We don't guess about the flu," says Dr. Diane Helentjaris, state epidemiologist and director of the state Department of Health's H1N1 office. "The total expected number of cases will depend on how many people get vaccinated and follow other public messages … The community will have the ability to alter the final picture."
A different kind of planning
For businesses, especially small and medium-size ones, the message is this: Pandemic planning isn't like preparing for a natural disaster. Business records can be preserved and you can rent a new space and get back to work, but a pandemic is different, says Addo-Ayensu. "It not only lasts longer, but human beings are the ones most impacted, so that takes a different kind of planning. You may have to do the same amount of work with less people, and how do you sustain that over time?" One key step is to make sure that key people are not indispensable. "Part of what we tell them is: Don't be the only person who can make [your business] thrive," she says. "Give authority to other people and communicate who those people are."
She advises business owners to:
 Decide what the critical functions are and focus on those.
 Cross-train workers.
 Have contacts handy for alternative suppliers.
Executives also should make sure their families have a plan, she says, and encourage employees to make plans in the event they or a family member becomes ill. An example is having a backup baby sitter or other arrangements in the event children become ill or their school or day-care center has to close. Plus, bosses should not be stingy with employee leave, says Addo-Ayensu. They should let workers stay home if they're sick or need to care for a family member, and be willing to bend company policies if necessary.
Business owners worried

Addo-Ayensu's warnings have reached many small-business owners, but they're still limited in what they can do. Omar Quintero, who owns a small pet store in Fairfax, went to one of her sessions. He came away worried but without a lot of alternatives. Most days he has two or three employees in his store, but if he gets too sick to come to work or if a family member's illness keeps him at home, then what? He says there's just one employee who could keep the shop running. "I hope he doesn't get sick at the same time. If that happens, I have to close the store."
Bigger companies are better able to respond. Dominion Virginia Power, which has 10,000 employees, has a lot of experience preparing for disasters, from hurricanes to ice storms. In its preparation for a flu pandemic, Dominion has had all 132 of its locations draft a plan that, first of all, identifies the work it has to do. "Obviously, keeping the lights on," says Pamela Snider, director of work-force relations. "Nuclear stations. Anything related to nuclear stations. We've identified what is critical and what can wait." And, like other utilities, the company has mutual-aid agreements with other utilities, and could share resources, sending or receiving workers and equipment as needed.
Dominion also has an internal Web site for employees, where it can post advice and updates. It already provides employees with free seasonal flu shots. "We're prepared, and our employees are not panicking, they're not overly concerned about this," Snider says. "They're doing exactly what they need to do."
In the bull's-eye
Health-care providers are even more in the bull's-eye of the H1N1 flu, because they'll be dealing with a surge of patients while trying to keep their own operations intact. Northern Virginia's Inova Health System, with 17,000 employees and dozens of facilities around the region, has been getting ready. Dr. Dan Hanfling, a specialist in emergency medicine for Inova, says that after the spring outbreak of H1N1, the health system started in earnest to develop a plan for a more serious episode, with attention going to obvious things — keeping employees and patients healthy through basic infectious control practices and making sure supply chains were secure.
Inova is ready to put off elective surgeries and anything unessential that takes away from fighting a flu pandemic. "We know our staff will feel it, our delivery supply-chain people will feel it," he says. "There are going to be impacts across all the sectors. It requires some planning."
One expected surge of patients will be the "worried well" — people who are basically healthy but think they might have the H1N1 virus. But Hanfling says the worried ill will be coming, too. "What this flu has shown is a little bit different. The worried well definitely come to the hospital, but this time [those] who normally wouldn't come to the emergency room are coming in because they want to know if they have the swine flu and do they get anti-virals."
That poses another challenge. "Here in Northern Virginia we saw a tremendous increase in emergency department visits in May and the end of June, when we still had pockets of flu, and those were the worried ill."
Back in 2002, Inova joined a group of regional hospitals in creating the Northern Virginia Hospital Alliance. It allows some basic sharing of supplies and even staff, Hanfling says, depending on need. The alliance has stored extra supplies in a warehouse in the region. "Any one hospital trying to do this on their own, it would cost them a lot of money [in] staff and logistics support. We decided that if we put our purchasing power together we can get the most for less."
Inova also has picked locations where it can set up hospital beds if its own facilities run out of room. It has 1,753 licensed hospital beds. "We've spent a lot of time looking at surge capacity," Hanfling says. "When demand for health-care services exceeds supply, we're going to have to alter our approach. That means doubling patients up in rooms, identifying what we call 'flat spaces,' [which] we can convert into patient-care areas." Not just any room will do, but "in a worst-case scenario, it's any room."
Contingency planning means expecting the worst, when the truth is you can't really prepare for it, Hanfling says. "You can't prepare for Armageddon, and you can't buy everything in the world," he says. "The worst-case scenario would be that this current strain of the novel H1N1 mixed with the bird flu, the H5N1, which we know is still circulating." The former is easy to catch, and the latter is deadly. "It combines the features of each to make a really dangerous situation."
Preparing for a surge
In Hampton Roads, Sentara Healthcare also is preparing. It has seven acute-care hospitals and about 15,000 employees in the region. Sentara has stockpiled supplies — gloves and masks, and so on — and made plans on how to handle a surge of patients. That surge can range from a flood of phone calls from people who suspect they might have H1N1 to crowds of patients filling emergency rooms. "Not every patient needs to be seen by a physician, and not every patient needs to be treated" in a hospital, says Gary Yates, chief medical officer for Sentara.
If a major outbreak occurs, Sentara plans to treat many of its patients at a handful of sites away from its hospitals, setting up treatment centers where people can be diagnosed and treated. "If there was any benefit to the spring rollout of H1N1, it was that [we learned] people get sick and then get well and go on," says Sentara spokesman Dale Gauding.
State health officials have been pushing out information to the public and to businesses, mostly through its 35 local health districts, says Robert Mauskapf, director of operations, planning and logistics for the Virginia Department of Health. The state also has a stockpile of more than 1.1 million five-day courses of the flu medication Tamiflu, Mauskapf says, as well as agreements with the federal strategic national stockpile to get more medication if it's needed.
Logistics planning for a flu pandemic has been under way for years at the state level, triggered by the risk posed by the avian flu. Now that the H1N1 flu is here, Mauskapf and other planners will see how well their plans and public-education campaigns have worked. "How many times can you be told to wash your hands, or don't cough in somebody's face?" he says.
But flu pandemics are rare — only three global outbreaks occurred in the 20th century — raising the risk that people won't take this one seriously, says Inova's Hanfling. "People are busy and think it won't happen to them," he says. H1N1 "is the great equalizer. You can't escape it."
Tweet
Reader Comments
There are no comments for this entry