Offshore drilling
Federal lease holds promise but faces uncertain future
March 29, 2010 6:00 AM
by Garry Kranz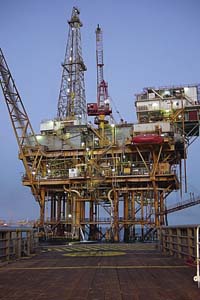 The prospect of offshore drilling in Virginia's coastal waters can be summed up in four words: Hurry up and wait.
A planned sale of oil and gas leases by the federal government of 3 million acres in Virginia's outer continental shelf remains in suspended animation. Although the lease sale is scheduled for next year, U.S. Interior Secretary Ken Salazar has hinted that delays are possible to permit further studies.
That's frustrating to proponents who say offshore exploration should be part of Virginia's energy solution. It also heightens fears that the White House may quietly cancel the lease altogether. "The Obama Administration recently gave $2 billion in U.S. loans to Brazil for oil-and-gas development. But they want to hold up Virginia's lease while they study it some more," says state Sen. Frank Wagner, a Virginia Beach Republican and drilling advocate.
Having approved foreign loans for offshore exploration, speculation is that Obama may be less inclined to support Virginia's lease sale next year, especially heading into an election year. That could stymie a potential source of new revenue for the commonwealth.
Wagner worries that the Interior Department will order seismic sounding of Virginia's coastal floor and then use the data to push for a moratorium on all offshore drilling in the U.S.
Wagner and Gov. Bob McDonnell recently met with Salazar in Washington to lobby for Virginia's lease. The governor also sent a strong signal last month when he signed several bills into law, supporting the development of offshore drilling and production and directing royalties back to Virginia. One bill would allocate 80 percent of any future offshore royalties to transportation and the remaining 20 percent to the Virginia Coastal Energy Research Consortium.
McDonnell wants Virginia to be the first East Coast state to tap oil and natural gas in the Atlantic. He supports financial incentives, such as tax credits, for companies that create jobs associated with alternative energy.
Under a proposal by the former Bush Administration, nearly 3 million acres off Virginia's coastline would be opened for exploration. Energy companies could bid for the right to explore the area, which according to government estimates, contains 130 million barrels of oil and 1.4 trillion cubic feet of natural gas. Other estimates place the figures much lower.
Some environmental groups oppose offshore drilling, citing its pollution risks and potentially negative impact on marine life in the Chesapeake Bay. The Navy and NASA also have weighed in, saying that platforms off Virginia's coast could impair their ability to do their jobs.
Even if the lease goes through, it likely will be years before Virginia realizes any royalties from drilling. Last year, Congress turned down legislation directing oil and gas royalties back to Virginia. And it remains unclear whether this proposed revenue structure would gain support in the future.
Tweet
Reader Comments
Great article!
This would make a tremendous boost to the Virginia economy. This would bring thousands of new jobs as companies set up headquarters in Virgina, especially if they were the first state to open up their waters on the East Coast.
I for one would be happy to open an oilfield rental tool shop once the drilling gets established there. I already run an Oil and Gas Career Website, and would like to help bring jobs to the Virginian economy.
All Virginians should lobby for the right to drill and to help protect our nation by becoming less dependent on foreign oil.
--
Paul of Houston
May. 25, 2010 at 09:29 PM
Page 1 of 1 pages