New custom car company opens in Henrico County
November 17, 2011 4:16 PM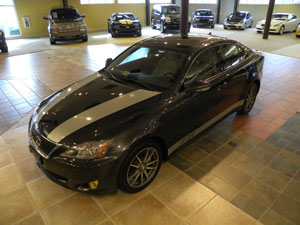 Richmond Custom Cars opened a 22,000-square-foot complex in Henrico County Thursday for customers who want anything but a standard ride. The company is set up to do custom modifications including paint and graphics, performance wheel and tire packages, grilles and body panels and state-of-the-art entertainment systems.
Customers can choose from a selection of car styles including performance, exotic, luxury, family utility SUVS and sedans and eco-friendly automobiles. The showroom is located at the former site of Capital Flooring and Tile at 4200 Brookriver Drive in Short Pump.
Henrico County resident Brad Evans founded and owns Richmond Custom Cars. Evans is the founder and former CEO of Richmond-headquartered Cavalier Telephone, which was acquired in 2010 by Paetec, Inc.
"Richmond Custom Cars gives area car lovers a place to experience the latest in automotive design," Evans said in statement. "Our goal is to provide unique and original automobiles allowing drivers to express their own identity with their car." The company currently employs seven people and expects to expand the staff to more than 15 when their service center opens in early 2012.
Tweet
Reader Comments
There are no comments for this entry