Museums dealing with Civil War and Civil Rights work together
December 28, 2010 6:00 AM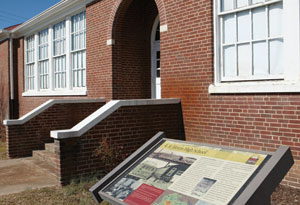 The Civil War and the Civil Rights movement involved conflicts between state and federal authorities over the rights of black Americans.
The war in 1861-65 led to the abolition of slavery, while the Civil Rights movement 100 years later resulted in the end of segregation and restoration of black voting rights.
The similarity of constitutional issues raised in both historical events has prompted a collaboration between the leaders of two Virginia museums, Waite Rawls III, president and CEO of Richmond-based Museum of the Confederacy, and Lacy Ward Jr., director of The Robert Russa Moton Museum: A Center for the Study of Civil Rights in Education, in Farmville.
As the name suggests, the 120-year-old Museum of the Confederacy traces the four-year history of the Confederate States of America and maintains the White House of the Confederacy, the Richmond home of President Jefferson Davis during the war.
The Moton Museum is the former R.R. Moton School. A National Historic Landmark since 1998, the school was the scene of a 1951 walkout by black students protesting the inequality of segregated schools. A lawsuit resulting from their complaints was included in the 1954 Supreme Court decision Brown v. Board of Education, which led to desegregation of public schools.
The museums soon will be neighbors. The Museum of the Confederacy is expanding to create a system of museums near Civil War sites. The Museum of the Confederacy-Appomattox, which will have 5,000 square feet of exhibit space, will open next year, 12 miles from the Moton Museum.
The Moton Museum will open its first permanent exhibition on April 23. The Museum of the Confederacy is helping it train staff and develop its collection. In turn, tour buses traveling to and from the Moton Museum will feature Museum of the Confederacy guides. They will heighten awareness about the opening of the Appomattox museum the following year.
Tweet
Reader Comments
There are no comments for this entry