More than a breeze?
Commercial development of offshore wind is gaining momentum in Virginia
March 28, 2012 6:00 AM
by Robert Burke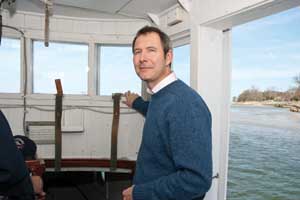 They grow a lot of food on the flatland of Virginia's Eastern Shore. Corn, tomatoes and soybeans are planted with crop rows dug at right angles to the prevailing wind so the sandy soil won't blow away. Those winds, though, could help a new industry take root that would bring big change here and across Virginia.
Poseidon Atlantic plans to build the first testing and certification center in the U.S. for offshore wind turbine generators along a few miles of marshy oceanfront in Northampton County. The offshore wind industry has barely started in the U.S., and so far there isn't a single turbine spinning in U.S. waters. But there will be soon, and turbine manufacturers who want a piece of that market need a site to test these enormous machines before placing them in the harsh ocean environment.
Joris Benninga, a founding member of Poseidon and a native of the Netherlands, says, "It's good timing, and a testing site on the East Coast is a good idea."
Benninga puts the project's ballpark estimate at about $75 million, with most of those costs to be borne by the testing manufacturers. He's been working out property leases with farmers and other landowners in Northhampton and says construction should start in mid-2013.
He has good reason to believe that Poseidon's timing is right. In February the Obama administration named four spots off the East Coast as potential sites for wind turbines, including one about 24 miles off Virginia Beach. Dominion Virginia Power, the state's largest utility, may be interested in building up to 400 turbines at the site. If all the pieces fall into place, Virginia could reap the benefits of an environmentally friendly energy source sitting right off its shores while gaining the thousands of jobs that would come with it.
That Poseidon Atlantic would set up shop in Virginia is proof that among an array of alternative energy sources emerging in the state, the offshore wind-energy market seems to be attracting the most interest. The project is a private sector initiative involving Maryland-based Real New Energy; Fugro, a worldwide provider of geotechnical services, based in the Netherlands; and Ecofys, a subsidiary of the Dutch utility Eneco. Ecofys is a sustainable-energy consulting firm in the Netherlands that operates the largest wind turbine test/certification facility in Europe.
Yet even with experienced players, there are obstacles. Engineers have to figure out the design of the 750-foot tall turbines and how to place them on the Atlantic's continental shelf. Work is under way on design, with major players leading the way. Early last year Gamesa Technology Corp., a global wind-energy company, joined with Huntington Ingalls Industries — the shipbuilding unit recently spun off from Northrop Grumman Corp. — to create the Offshore Wind Technology Center in Chesapeake. Here, engineers are working on two prototypes. Gamesa, which already is manufacturing parts for land-based turbines, recently received permission from the Virginia Marine Resources Commission to install a single 5-megawatt turbine in the Chesapeake Bay a few miles west of Cape Charles at the southern tip of the Eastern Shore. The turbine still must be approved by the U.S. Army Corps of Engineers.
Good fit for Hampton Roads
Technical problems aside, Hampton Roads is a natural for this new industry. Rich in expertise in marine environments and shipbuilding capacity, it also offers a deep water port suitable for big ships and is relatively close to where these offshore turbines might be placed.
In February, when the Department of Energy named four "Wind Energy Areas" off the mid-Atlantic Coast, it promised them an expedited path through regulatory reviews. The site off Virginia Beach covers 165 nautical square miles. The others are located off the coasts of New Jersey, Delaware and Maryland.
Mary Doswell, Dominion Virginia Power's senior vice president for alternative energy, says the general sense in the industry is that the tipping point for turbine makers will come when they have demand for roughly 1,000 megawatts of wind-generated power. "That will show them it's a sustainable market and one they can answer to," she says.
Next would come manufacturing facilities, presumably close to where the turbines will be placed. Then big ships would be needed to make the shortest possible trip, because it's cheaper that way. "You need very large craft that can pick up maybe 20 offshore turbines and place them at sea," Benninga says. "That technology doesn't exist yet" in the U.S., he says.
The Eastern Shore is definitely interested in getting some of the estimated 5,000 long-term jobs and investment in Virginia that might come from an offshore wind industry. Northampton County Administrator Katherine Nunez says there is industrial land and a working harbor at the county's southern tip at the mouth of the Chesapeake Bay. "We think our location is going to be the most beneficial," she says. "The wind energy projects really do fit who we are."
Yet, it will take time for events to unfold. The actual leasing of the ocean site off Virginia Beach could begin in nine to 12 months. The site is divided into blocks of nine square miles each. In March utilities had to tell the federal Bureau of Ocean Energy Management how much space they want to lease. Dominion expressed interest in the entire 113,000 acres the government is making available. It wasn't clear at press time if other responses would lead to a competitive bidding process. The site could generate up to 2,000 megawatts of electricity from offshore wind turbines — enough energy to power 500,000 homes.
Doswell says Virginia's coastal waters are "if not the strongest, then right up there … We have great winds. We have shallow depths, which cuts down on cost. We have shipbuilding areas for staging. So Virginia has a lot of physical attributes that are great for wind."
Data from the U.S. Department of Energy rates wind power along Virginia's coast as good to excellent, particularly the area from the southern tip of Northampton County south along Virginia Beach and past the North Carolina state line. When measured at a height of 50 meters, wind speeds in that area average about 17 miles per hour.

A question of costs
The cost of offshore wind is an issue that Dominion frequently cites when it discusses alternative energy sources. Doswell says that Dominion Virginia Power's residential customers now pay about 11 cents per kilowatt hour, and wind energy generation costs run more than twice that amount. She notes vendors that build wind power equipment won't come to Virginia until they have some big orders from utilities, and utilities won't make those orders until they're sure they can afford it. That's especially true for utilities in Virginia that must seek approval for power-generation projects from the State Corporation Commission.
It makes for a tricky path forward. Dominion doesn't insist that wind energy cost the same as it pays now. "The costs aren't going to drop overnight," says Doswell. "To me that's fine, if we can show that we are headed to a level of costs that can be sustainable."
Dominion critics, though, say the utility and state policymakers are taking a risk if they don't push forward. "If we wait, which might be good in terms of getting a lower cost later, we won't be in on the manufacturing part of it," says Ivy Main, a vice chair of the Sierra Club's Virginia chapter. "The jobs will go to the states that first commit to the build-out."
The Sierra Club's main interest is in the environmental benefits that wind energy would have over fossil-fuel sources such as coal. Main says Dominion advertises its renewable energy programs, but many of the renewable energy credits the utility uses to meet the state's voluntary renewable portfolio standard (RPS) actually are purchased from out-of-state power companies.
While that's true in the short-term, Dominion says it has several renewable energy projects in the works, and that in the future more of the credits will come from Virginia. Another reason for going out of state is to keep costs down for renewable sources until the utility can get more of its alternative projects online. "Our focus remains at doing this at a reasonable cost to our customers," says Jim Norvelle, a spokesman for Dominion Virginia Power.
While many states have mandated that a certain percentage of energy generation come from renewable sources — seen as an important market driver for new development — Virginia opted to go with a voluntary RPS in 2007. Its target is 15 percent by 2025, with utilities eligible to receive an enhanced rate of return for meeting the standard.
Main notes that Dominion is allowed to collect more from ratepayers for meeting the technical requirements of the voluntary program, but the environmental benefits of using alternative energy sources such as wind or solar aren't happening enough here. "If you're asking people to pay extra for energy then they should get the benefit of it in their states," she says.
Dominion says it is committed to meeting a growing demand for power with a diverse generation portfolio. However, at this time, the portfolio still centers primarily on traditional fuel sources, especially natural gas, which recently has become less expensive in part because of new reserves being recovered from shale. In February Dominion chose a site in Brunswick County for a $1.1 billion, 1,300-megawatt, natural gas-fired power station that could power more than 325,000 homes. If the project wins state approval, it could begin operation in 2016. A similar plant could be constructed in Chesterfield County in 2019, company officials say.
Dominion is closing several coal-fired power plants in part because of new federal pollution standards that would require installing additional environmental equipment. The new natural gas projects would replace the electricity supplied by those units. However, the company does have a new coal plant under way. Scheduled to begin operations this summer is the 585-megawatt Virginia City Hybrid Energy Center in Wise County. Twenty percent of its fuel will come from biomass made from wood chips.
Wind and gas combination
In terms of costs, the move toward natural gas-fired plants could match up well with using wind energy, says George Hagerman, director of offshore wind research at Virginia Tech Advanced Research Institute in Arlington. Hagerman's data show that "the combination of wind and gas is an ideal one … it certainly has a much lower pollution component." Natural gas prices are dropping and, as a power source, wind doesn't cost anything. "Virginia is actually exporting natural gas now, it's so cheap here," he says.
Skeptics of wind energy projects cite some of the higher costs per kilowatt hour that have come from projects such as the proposed Cape Wind project off the coast of Massachusetts. But Hagerman says the utilities in states such as Virginia and North Carolina have an advantage. As regulated utilities, it costs them less to raise capital than it does for independent energy producers, he says, so the per-kilowatt costs should also be less here. "There are a number of very good reasons why Dominion would want to own and operate" an offshore wind farm, he says. "It's a pretty exciting time."
Meanwhile, a new, nonprofit group, AEE Virginia (Advanced Energy Economy), is trying to organize public and private-sector entities into an industry support group to advocate for green energy. "We're trying to build an industry that represents economic opportunity for the state," says David Dusseau, part of the organizing committee and founder of Allies in Energy in Charlottesville, a company that helps clean energy companies recruit employees.
Dusseau notes that Virginia's public policy approach toward green energy projects is generally hands-off. The lack of a mandated RPS leaves Virginia "kind of behind the eight ball compared to other states" that do require alternative energy sources. He says that's partly why a group like AEE is needed, so that outside firms looking to come to Virginia will have an easier time connecting to other companies in their field.
Like many others working in energy businesses, from traditional sources to solar and wind power, Dusseau is enthusiastic about what could be and patient with how long it's going to take. "It's going to need a lot of work, and it's going to take a number of years before you see a payoff," he says. "But it's going to be huge."
http://www.virginiabusiness.com/index.php/news/article/virginia-moves-closer-to-installing-americas-first-offshore-wind-turbine/
http://www.virginiabusiness.com/index.php/news/article/dominion-virginia-power-would-like-to-lease-entire-wind-area-off-coast-of-v/
http://www.virginiabusiness.com/index.php/news/article/add-offshore-wind-platforms-says-study-done-for-dominion-virginia-power/
http://www.virginiabusiness.com/index.php/news/article/obama-administration-announces-steps-to-speed-development-of-offshore-wind-/
http://www.virginiabusiness.com/index.php/opinion/article/poseidon-atlantic-moves-hampton-roads-one-step-closer-to-being-east-coast-w/
Tweet
Reader Comments
INDUSTRIAL WIND TURBINES DO NOT PROVIDE CLEAN ENERGY! Not one coal or gas plant the world over has been decommissioned because of IWTs…and eliminating our dependence on fossil fuels is their whole purpose. To quote an expert: "Because wind blows intermittently, electric utilities must either keep their conventional power plants running all the time to make sure the lights don't go dark, or continually ramp up and down the output from conventional coal-or gas-fired generators (called "cycling"). But coal-fired and gas-fired generators are designed to run continuously, and if they don't, fuel consumption and emissions generally increase." This is happening worldwide, and in places like Colorado and Texas where CO2 and power plant pollution have increased since installing wind farms:
http://www.forbes.com/2011/07/19/wind-energy-carbon.html http://www.denverpost.com/headlines/ci_15081808
http://www.clepair.net/IerlandUdo.html
http://www.thespec.com/news/ontario/article/610422—cost-of-green-energy-40-higher-than-government-estimates
http://articles.baltimoresun.com/2011-07-25/news/bs-ed-wind-farms-20110725_1_wind-turbine-wind-farm-wind-power
The wind industry is built on crony capitalism, it is the only way it can exist. Taxpayer money builds them and power companies are mandated to buy wind generated power at much higher rates than conventionally produced power. There is no true benefit, except to wind power companies, politicians and lobbyists.
--
billslycat
Mar. 28, 2012 at 10:24 AM
Page 1 of 1 pages