Her buildings are like family
July 01, 2010 6:00 AM
by M. J. McAteer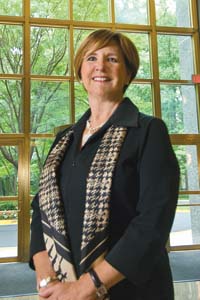 The upscale office buildings that Janet S. Davis has helped develop during her career represent more than bricks and mortar or even a bright feather in her cap.
"My buildings are like family," she says. "I have relationships that go back decades."
When the commercial real estate broker drives past one of "her" buildings in Northern Virginia, she thinks, "That development put my child through college. This one allowed me to go on vacation with my husband. We may no longer own that building, but it is still my building."
Those professional relationships helped Davis develop and lease a portfolio of more than 8.7 million square feet of prime office space during a nearly 30-year career. Yet, she says, the most valuable property in her portfolio has always been her reputation. "Your reputation is the most important thing you have," Davis says.
The senior vice president of the Mid-Atlantic region for Brandywine Realty Trust — a nationwide company that develops and manages mostly Class A suburban and urban properties — is one of her REIT's top producers. In 2009, she did $116 million in leases representing 580,000 square feet. In 2008 she leased 834,000 square feet with a value of $283 million. "Janet works well with people and doesn't play a lot of games," says her boss, Bob Wiberg, the senior managing director for the region.
Davis has handled many marquee projects for Brandywine. They include Fairview Park, a 2.5-million-square-foot office development in Falls Church and the award-winning 1301 K Street building in the District of Columbia. Her current undertakings in Virginia include West Lake at Dulles Corner and Lakeside at Woodland Park, which together represent 350,000 square feet of commercial space in Fairfax County.
"I am involved in predevelopment, I find the tenants, and I hopefully maintain them," Davis says. That job description keeps her hopping. Yet the cornerstone of her reputation is a willingness to make the time to help other people in the business. "I have never not returned a phone call."
"Janet is philanthropic with her time and resources," says Martha Marks, president of NAIOP Northern Virginia, an association of commercial real estate developers. Davis is a former chair of NAIOP Northern Virginia and of Commercial Real Estate Women of Washington, D.C. (CREW).
Although Davis says she has had "no difficulties whatsoever" negotiating the overwhelmingly male field of commercial real estate development, she also recognizes the importance of having had mentors who looked past her sex to give her opportunities to show what she could do. She advises women starting out in the profession to insist on being judged on their skills alone. "If you are in a firm that does have a gender bias, leave. It is not worth your time," she says. "You work with good people, it pays you back in the long term."

Tweet
Reader Comments
There are no comments for this entry