Harnessing the sun and wind
How big a role will renewable energy sources play in Virginia?
March 29, 2011 6:00 AM
by Robert Burke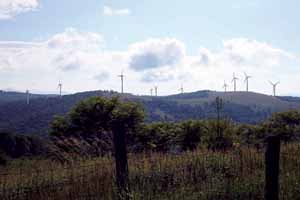 Who would have guessed that the first commercial wind-power project in Virginia would be built by a retired turkey farmer? That's what is happening on a ridge called Red Oak Knob in Highland County near the West Virginia line.
The wind blows hard there year-round. On the most intense days, gusts can top 100 mph. About 12 years ago, Mac McBride and his son Tal began looking into whether they could make money by putting huge wind turbines on the open mountaintop pastures where their family has farmed for more than 50 years. The elder McBride, now 84, got the idea in 1998 after reading about a Minnesota farmer who built a wind farm and asked Tal what he thought of the plan. His reaction: "I said, 'That's a great idea, and I wish I had thought of it.'"
So they created Highland New Wind Development LLC, got the required permits and fought off opposition from some of the neighbors. Site construction began last year. When the weather allows, Tal McBride says work will resume this spring, with the placement of a total of 19 three-blade turbines, each nearly 400 feet tall, on Red Oak Knob and nearby Tamarack Ridge.
He expects the turbines to be spinning sometime later this year. Total power output will be 38 megawatts — enough to power about 10,000 homes. However, the power generated might instead be going to a large commercial user that would buy it directly from Highland, instead of from a utility. "There are ongoing negotiations with two entities for power from our project," Tal says, declining to name the possible customers.
So far the McBrides have invested more than $5 million in the project. Tal is confident that the wind farm's long-term financing will take shape after they sign a contract with a buyer. "All the work that we've done already, that stuff doesn't happen if it's not going to be built," he says. "I'm really proud of my dad. He had a great idea, and we're the first people in Virginia to do this."
The Highland project captures the uncertain nature of what role renewable energy will play in Virginia. The Old Dominion is not a leader in alternative energy. Currently, less than 3 percent of the state's energy output comes from renewables such as solar and biomass-powered energy, compared with 8 percent for the country as a whole. There are some modest new projects here in those sectors, and the potential for developing wind farms off the Virginia coast is looking stronger, thanks to more support from the federal government and a new, streamlined application process in Virginia.
Yet traditional energy sources such as coal, nuclear power and natural gas still rule. Those three accounted for 69 percent of the fuel sources in 2010 for the state's major electric utility, Dominion Virginia Power, according to the company. And those fuels are where Dominion continues to put most of its money. Its newest plant is the $619 million, 580 megawatt, natural gas-powered Bear Garden power station in Buckingham County, about 60 miles west of Richmond. It will start running this summer. Plus, the company will be seeking approval from the State Corporation Commission (SCC) later this year for another natural gas-fired power station, this one in Warren County near Front Royal. If approved, the plant could be operating in four to five years. It also wants to reopen a power station in Altavista, inactive since last fall, and convert it from a coal-burning plant to one that would be fueled by waste wood.
At this juncture, Virginia's best prospects for large-scale renewable energy generation are off the coast. The U.S. Department of Energy rates the Eastern Seaboard from South Carolina to Maine as having excellent potential for offshore wind farms, which exist now mostly in northern Europe and Asia. Plus, the wind-power sector got a boost in February when Energy Secretary Steven Chu and Secretary of the Interior Ken Salazar announced in Norfolk that the federal government would spend $50.5 million over five years to pay for research and development of offshore wind energy. The feds also are trying to speed up private-sector investment in wind farms and identified sites in several states, including 165 square nautical miles off the Virginia coast.
A couple of Virginia companies have applied to lease space off the Virginia Beach shoreline for wind farms. One of them — Seawind Renewable Energy Corp., based near Richmond and a subsidiary of Iowa-based RPM Access — also is looking at wind-farm locations off Maryland's Eastern Shore. So far, only one offshore wind farm in the entire U.S. has been approved, the 468-megawatt Cape Wind project, which, when constructed, will be a few miles off Cape Cod in Massachusetts.
Theo DeWolff, an executive for Seawind, says prospects for land-based wind energy are very limited in Virginia. There aren't a lot of good sites and there is a lot of conflicting land uses. "If Virginia wants to see big wind development projects, the opportunity is offshore," he says. "That's why Seawind was set up." But even with the federal effort to speed up the development of offshore wind farms, "it will take awhile. You have to go through a very complex federal [permitting] process that takes years."
A big hurdle for wind generation, though, is that it generally costs more per kilowatt-hour than power from traditional sources. There's some movement on that front in Virginia. Northrop Grumman Corp. and Gamesa Technology Corp., a Spanish firm that makes wind turbines, are sharing R&D efforts at the new Offshore Wind Technology Center, located in a Chesapeake office park. About 40 to 50 people work there now, says Chris Vitarelli, program manager for Northrop Grumman.
The companies want to have two prototype turbines ready by late 2012. The joint venture came about because Gamesa doesn't have experience in building ocean-based turbines, and Northrop Grumman has expertise "in a marine environment," Vitarelli says. Plus, the arrangement gives Gamesa a foothold in the U.S. market at a major port. For Northrop Grumman, it could mean a new market niche — the chance to build the specially designed ships necessary to put these giant turbines in place. "We're in discussions with [Gamesa] on that, but … our focus now is on the design of engineering" of the turbines.
Even though the center is located here, Vitarelli says the two prototypes could wind up anywhere along the East Coast. "There are a lot of things to consider — the wind patterns, the local permitting requirements … It's a challenge."
Prospects for offshore wind generation could be more attractive if Dominion becomes involved. Dominion Resources Inc., the parent company of Virginia's largest utility, already has a stake in land-based wind farms: for example, it owns half of a 264-megawatt wind farm, the Mount Storm facility, which started operating in 2008 in Grant County, W.Va. It also co-owns, along with BP, a wind farm in Indiana. But the cost of offshore wind generation is a barrier, says Mark Webb, Dominion Resource's director of policy and business evaluation for alternative energy solutions.
Asked what it would take for Dominion to get involved in offshore wind development, Webb named three points: first, "substantial" federal grants or subsidies. Second, some technological advances that would lower the cost. "And the third one would just be that the state … decided that the economic development benefits are substantial enough to justify increased electric costs."
Whether the state is willing to approve higher rates in the name of using alternative energy sources is an open question. Last June, the SCC rejected a request from Appalachian Power, a subsidiary of American Electric Power, Virginia's other major energy supplier, to buy electricity generated by two wind farms, in West Virginia and Illinois. The SCC said the proposal would be too costly for Appalachian customers, who already had seen substantial price hikes.
Todd Burns, spokesman for Appalachian Power, says the SCC rejection "did leave us trying to figure what we were going to do next." He blamed much of Appalachian's recent rate increases on the cost associated with installing emission control equipment on the company's coal-fired power plants. Since 2005 it has spent $2.5 billion on those improvements. "The good news is that it has substantially reduced those emissions," he says. "But it comes at a higher cost."
Cost, and the technological barriers for getting into the market, are the main issues, says Dominion Virginia Power spokesman Jim Norvelle. He says the market price right now in the U.S. is about 11 cents per kilowatt-hour, and that the Cape Wind project could end up pricing kilowatts at around 20 cents to 24 cents per hour, in part because of the higher cost of building an offshore wind facility. That's too expensive for the current market, he says. "One of the reasons that Dominion Virginia Power believes it's been successful is we have a mixed base of generation," Norvelle says. "That's one reason our rates have been stable for years."
Norvelle says Dominion wants to be in the alternative energy business, and the company has several projects under way or in the planning stages around Virginia. It's looking at property in Tazewell County as a possible site for a wind farm, provided it can persuade the county to revamp a local height ordinance. It's also moving forward with plans for a $27.9 million "integrated solar and battery storage demonstration project" in Halifax County. In addition, it's building the $1.6 billion, 585-megawatt Virginia City Hybrid Energy Center in Wise County. That facility, expected to be finished in mid-2012, will burn mostly coal but also up to 20 percent biomass materials, which will be mostly wood waste trucked in from the region.
While Dominion is hoping that the investment costs of renewables will drop, others argue that there are better ways to increase the percentage of electric power that comes from those sources. Glen Besa, president of the Virginia chapter of the Sierra Club, a big supporter of renewable energy projects, says Virginia could do a lot more. The state is one of five nationwide that has a voluntary goal for the use of renewable energy sources, instead of a mandate that would force utilities to commit more money toward such projects. Besa is skeptical of Dominion's arguments about cost. "Their number one priority is their shareholders, and that's fine," he says. "But they're going to make money whether it's a new wind plant or a new gas plant."
The Sierra Club lobbies hard to push state policymakers toward renewable energy projects. It's happy with Gov. Bob McDonnell's support for the research center in Chesapeake, but disappointed with his overall free-market approach to renewable energy projects. And, Besa says, Dominion's influence in state policy is huge. The most recent ranking from the Virginia Public Access Project puts Dominion fifth in lobbying, spending $241,959 from May 2009 through April 2010. "They have the ability to make things happen. If Dominion doesn't like it, it doesn't pass. If Dominion does like it, it does pass," he says. "We want to encourage Dominion to make this investment" in renewable energy projects.
Webb of Dominion says Virginia is right to take a voluntary approach toward renewable energy use. Mandatory standards in other states "don't do anything to affect the issue of cost," he says. "The key is to get the cost of renewable energy down so it's competitive with all other sources."
The state's voluntary program says that by 2025, 15 percent of the energy that utilities supply to customers should come from renewable energy sources. "We believe we're going to be able to do it [and that] the market is going to respond to it," Norvelle says. (See interview on page 32 for more information on Dominion's alternative energy programs.)
That's a long way off. In some ways the modest Highland project shows how far Virginia has to go. The McBrides are fortunate in a lot of ways — they have hundreds of acres of land in one of the few parts of Virginia where a wind farm is suitable, and there is a major power line running through the property. "That's our highway for getting the power out," Tal McBride says. In hindsight, he thinks it would have been a lot easier to let somebody else go first and face the challenge of getting a wind farm approved and operating. "This is not a venture for the light of pocketbook or weak of stomach," he says.
Tweet
Reader Comments
This article appropriately conveys that land-based commercial wind energy projects in Virginia confront "a lot of conflicting land uses."
However, it does its readers a disservice by showcasing Highland New Wind - while ignoring the numerous problems faced by this proposed project, including a pending complaint under the Endangered Species Act, potential issues with the Bald and Golden Eagle Protection Act, the proximity to a National Register Civil War battlefield/encampment, and pollution problems associated with extensive earth disturbance in the headwaters of Laurel Fork, one of Virginia's highest quality and most-pristine native brook trout streams.
Rick Webb, www.VaWind.org
--
Rick Webb of Monterey, Virginia
Mar. 30, 2011 at 08:52 AM
Mr. Webb is a known and vocal opponent of development in Highland county. He is often first in line with complaints about the McBride's and his vocal and repeated opposition does a great disservice to forward thinking individuals who want to help Virginia become energy efficient.
His web site - vawind.org - is full of misinformation and half facts.
--
Bruce Cameron
Mar. 30, 2011 at 03:04 PM
Mr. Cameron is correct in identifying me as an opponent of the Highland New Wind project. I share that distinction with a great many others.
However, Mr. Cameron in incorrect in identifying me as an opponent of energy efficiency in Virginia. On the contrary, I am very much in favor of actual solutions to our energy problems.
Construction of industrial wind energy projects on our mountain ridges is a distraction at best, and it's unacceptably costly in terms of both taxpayer expense and environmental degradation.

I suggest that the government grants and subsidies now offered to ill-conceived ventures such as Highland New Wind could be much better spent.
I was pleased to read in the interview with Dominion VP, Mary Doswell, that Dominion is interested in promoting both energy efficiency and distributed generation - solar panels on residential rooftops. That makes sense on many levels.
--
Rick Webb of Monerey, Virginia
Mar. 30, 2011 at 06:34 PM
In 2006, the Resource Systems Group, an engineering consulting firm which has identified the clean air impacts of wind on metropolitan areas such as Chicago, Illinois, Washington, DC and New England performed a study on the impacts wind would have on backing down fossil fuel emissions from power plants in the mid-Atlantic region. Their study indicated almost 90% of the energy produced by wind would force the backing down of coal from the mid-Atlantic region.
I was able to use their report, while an employee of the Environmental Resources Trust, Washington, DC, to show that wind turbines would actually occupy less of an area on top of a mountain ridge versus the area destruction caused by the mining of the coal to produce the same energy saved by the wind. Wind Turbines do not destroy mountain tops, but mountain top removal permanently destroys mountains.
We have a virtual holocaust of mountain destruction going on in West Virginia just a few ridges to the west and south of Highland County to feed our coal appetite, yet, thanks to a few environmentalists in Virginia, not a single wind turbine plant has been built in over almost fifteen years of petitioning the Commonwealth to do so.
I have always found it incredible that environmentalists like Rick Webb could paint wind turbines as destructive and turn a blind eye to to the destruction caused by the inevitable alternative to feed our electricity habit.
I suppose it is convenient to say that mountain top removal is West Virginia's problem and Wind Turbines, Virginia's, but we need to look in the mirror everytime we turn on the switch.
--
Alden Hathaway of Cumming, Georgia
Apr. 1, 2011 at 02:11 PM
Mr. Hathaway and I have been over this ground before, and by now he should know better than to suggest that I have turned a blind eye to the problems associated with coal mining and coal usage. I would be the first to support Appalachian wind development if there was any real chance it would reduce coal use.
Mr. Hathaway argued that wind energy development can displace mountain-top-removal coal mining in a 2007 article in UVA Magazine: http://uvamagazine.org/university_digest/article/wind_chill/
I responded here: www.vawind.org/Assets/Docs/Very_Shaky_Environmental_Claims.pdf.
I served on a National Research Council Committee on the Environmental Impacts of Wind Energy Development in 2005-2007. Among other things, we looked at model results reported by Mr. Hathaway and his colleagues that showed that emissions displaced by wind development would either exclusively or predominately be associated with coal-fueled generating units. The NRC committee found that only minimal details concerning their model applications were provided. Moreover, although the associated documentation identified some of their data sources, critical data, including proprietary or confidential information related to both wind-energy performance and identification of the displaced generating units, were not provided.
Mr. Hathaway's analysis failed to meet the transparency standards that should be the norm for either scientific assessment or public policy deliberation.
More to the point, the NRC committee examined projections for future electricity use and land-based wind energy development. Based on Energy Information Agency analysis, total U.S. electricity generation was forecast to increase by more than 1,000,000 GWh between 2005 and 2020. Even the most amibitious projection for land-based wind energy development would account for less than 20% of this increase in total generation. The rest of the increase would have to come from generation sources other than wind.
Yet Mr. Hathaway and other wind energy salesmen would have us believe that wind energy development on our mountain ridges would actually reduce coal use.
The NRC report can be read online: http://www.nap.edu/catalog.php?record_id=11935
See Chapter 2 for the analysis of potential wind energy displacement of fossil fuel use, contribution to energy supply, reduction in carbon emissions, etc. Other sections of the report address the environmental tradeoff.
Rick Webb
--
Rick Webb of Monterey, Va
Apr. 1, 2011 at 04:27 PM
Wind power is non-dispatchable, not reliable,and intermittent. Any large installation requires additional, backup conventional power generating capacity, which must be able to fill in the power gaps. Intermittent operation of such plants reduces their own efficiency and increases their pollution over what would occur if they were to operate at their constant design output. The power grid is to be subjected to the strains of juggling this mish-mash of power sources. For this, the taxpayer is to pay increased taxes to fund the promoters' wind projects up-front tax credits, and subsequent increased utility bills for this Rube Goldberg power scheme.
Some deal. Some way to "save the environment."
--
Charles Battig of Charlottesville, VA
Apr. 4, 2011 at 09:03 AM
I thank Rick Webb for his response and would like to point out that I am not a wind salesmen so to speak, although I do work in Business Development for the nation's largest renewable energy retailer. I am a Professional Engineer with an electrical engineering degree from the University of Virginia and have been practicing environmental consulting in energy and energy enginnering and sales for almost thirty years.
I never responded earlier to Rick Webb's rebuttal of my article in the UVA magazine back in 2007, because I thought that it was in the domain of Resource Systems Group, the author of the report, to respond, and furthermore, believed that Rick Webb's intellectual curiosity would have driven him to contact them to learn how they do their reports.
However, I find it puzzling to believe that simply labeling them as not sufficiently transparent is gorunds to toss out their work.
Resource Systems Group and the studies they produced were led by Dr. Colin High a PHd prefessor of engineering at Dartmouth University. Their reports indicating which power plants are operating on the margin and, thus, backed down when wind energy comes on the grid were paid for and accepted by the US Department of Energy. They were also submitted to the Metropolitan Washington Council of Governments, the City of Chicago and several environmental organizations; the Great Lakes Protection Fund, Environmental Defense Fund and the World Resources Institute. Dr. High's analyses were also requested by state groups in New England and he testified on clean air benefits of wind backing down fossil fuels in Maine.
Since many of these reports were paid for by the USDOE, I just believed that Mr. Webb would do what any good environmentalist would do and file the necessary request to see the taxpayer funded report. I find it incredible that Mr. Webb could claim they were proprietary and that he could not get his hands on information about how the report was generated.
Then I thought, maybe he was suggesting I was not transparent in how I determined how many MWHs of coal energy were saved vs. MWHs of wind energy generated. But any good electrical engineer knows Kirchoff'c Current Laws require that if additional current is placed on a grid system for a given load, then an equal amount of current must be taken off or backed off by other generation for the system to remain in balance. Ergo, since the RSG reports say that coal is on the margin and backed down by a specific ratio when wind generates, the MWHs of wind added to the system must be matched by that same ratio of coal MWHs taken off the system. I gave the rest of the footnotes (for transparency sake) to back up my claim of how much coal and, thus, how much mountain top destruction to get that coal would be done over the twenty-year life of the wind turbines in the same article in the UVA magazine that Mr. Webb points to.
I would like to also ask, how much transparency is necessary to see the destruction of mountain tops due to coal and to see that wind turbines do not destroy mountain tops?
If the ral questions is that wind makes no impact on coal and clean air due to backing down coal, then I ask this question: How does Mr. Webb attribute the much cleaner air over Washington, DC we have now, in relation to ten years ago, before the states of Illinois Indiana, Michigan, Ohio, Pennsylvania, Maryland and West Virginia constructed nearly 5000 MW of wind power - states whose coal power plants severely impacted ozone levels in Washington, DC? At some point, one would have to stop hiding behind claims of lack of transparency and look at the reality on the ground.
--
alden hathaway of Cumming, Georgia
Apr. 5, 2011 at 01:29 PM
"no one — except the tried and true opponents — has ever claimed that wind would supplant coal or nuclear" - wind industry representative Frank Maisano
Cumberland Times-News, April 3, 2011
"It's not a matter of displacing or replacing coal or nuclear or things like that. But it's a matter of taking a project that you can develop where it makes sense … and adding it to the grid to make that pool of power a little bit cleaner." - Frank Maisano, spokesman for the wind energy industry.
Cumberland Times-News, January 7, 2009
--
Michael Morgan of Keyser, WV
Apr. 6, 2011 at 10:00 AM
If Mr. Alden Hathaway is willing to testify that wind energy development in the eastern U.S. is "backing down coal" and achieving cleaner air, he should also be willing to provide the data that support his claims.
Concerning the issue of coal or other fossil-fuel displacement: Mr. Hathaway could move the discussion forward if he could simply obtain and publish hourly or even daily generation data for wind projects in the central Appalachian region.
Concerning the improvement in air quality in the D.C. area: It would be helpful if Mr. Hathaway could provide the data behind his conclusion that this good news is due to displacement of coal-fueled generation by wind-powered generation, as opposed to emission reductions obtained through implementation of the Clean Air Act.
--
Rick Webb of Monterey, Virginia
Apr. 7, 2011 at 10:12 AM
I think it is laughable that Rick Webb presents himself as the all-knowing source about Wind Energy and that he represents a consensus of Highland County residents that are opposed to the New Highland Wind Project. Do yourself a bit of research on Mr. Webb's vawind.org site and you'll discover a set of heated emails exchanged with elected officials of Highland County.
Mr. Webb does not represent the majority opinion, even though he would love you to believe it.
Secondly, it is a hoot that Mr. Webb speaks of Dominion and their plans for energy in Virginia and overlooks the huge Mount Storm complex that generates electricity for the Commonwealth. He also fails to mention that it was built upon a former strip mine.
Mr. Webb would have you believe that the McBridge property is pristine Eastern wilderness when in fact it is a bald knob that has been used for cattle grazing for decades.
Mr. Webb would also have you believe that Camp Allegheny is a pristine example of a civil war battlefield. It is not. It has been used as a sheep meadow for many years. The only way to see the proposed wind farm from this small West Virginia encampment is to trespass on private property in the middle of winter, climb to the highest point and hope that you could see the top of a turbine that is over two miles away as the crow flies.
The McBrides have put their own money into this project in order to bring clean energy to the Commonwealth of Virginia. Mr. Webb purports to be the majority when in fact he is a vocal minority.
Mr. Webb also fails to mention the hundreds of thousands of dollars of tax revenue that will flow into the coffers of this small county. Money that can be used to benefit all the citizens by improving roads and schools.
When I first read Mr. Webb's rebuttal and commentary to this article my first thought was, that this guy could be the voice of big coal. My perception is: he just needs something to rail against.
I hope the McBrides are successful in bring clean energy to virginia. We need it. The wind is there and it is a much cleaner and safer alternative to Mountain Top Removal.
--
m.r. davidson of Commonwealth of Virginia
Apr. 10, 2011 at 08:11 PM
Interesting Mr. Davidson would choose Mt. Storm. I live 12 miles from the project site and am not happy that one environmentally destructive process replaced another to provide him with an occasional puff of electricity. It is ludicrous that this scenario is being portrayed as the modern model for land reclamation.
I would encourage Mr. Davidson and others to seek out and report how much actual electricity is generated from the 132 turbines which cut a broad swath through the migratory lanes of the Allegheny Front. With an industry estimated performance of 30% against nameplate (sorely overstated in reality), the installation utilizes the air and land space required to support the 132 turbines while, at best, producing the name plate capacity of 40. In fact, if he lived to see the turbines in the distance, he might not be surprised that, on the two coldest days of recent weeks the turbines sat idle as the threat of high wind speed did not permit them to run. I encourage the wind business proponents to review and report, if you will, electricity generation actuals and counter the notion that, at times of peak demand, wind cannot be relied upon to adequately support service.
You need only review the Bonneville Power Authority website and the IESO wind tracker to see the incredibly poor performance, two of the more user friendly reporting agencies. You might read the report of the Jon Muir Trust - which recently reported that "Wind farms are much less efficient than claimed, producing below 10% of capacity for more than a third of the time." Further, "The analysis also suggested output was low during the times of highest demand." In fact, "During each of the four highest peak demands of 2010, wind output reached just 4.72%, 5.51%, 2.59% and 2.51% of capacity, according to the analysis." They confirmed that, "It is clear from this analysis that wind cannot be relied upon to provide any significant level of generation at any defined time in the future." (http://www.bbc.co.uk/news/uk-scotland-12985410)
Perhaps, rather than mistaking Mr. Webb as a voice for big coal, Mr. Davidson might take the word of a wind lobbyist who actually represented the oil and coal industry in recent years. Frank Maisano, who I quoted in an earlier comment said that "no one — except the tried and true opponents — has ever claimed that wind would supplant coal or nuclear." (http://alleghenytreasures.wordpress.com/2011/04/04/frank-maisano-and-the-merry-handful/) You can judge if Mr. Maisano is simply keeping a bridge open to return to his prior industry, should the wind business no longer require his service or if he is telling a sad truth. I believe he is honest in stating that wind won't replace fossil fuel to any significant level.
The fact is, these monstrosities have failed to deliver on all claims. There is ample and growing evidence to suggest they do not substantially reduce emissions; fossil fuel is increasingly required to support the dramatically unreliable and variable output of the turbines; the actual electrical generation output is dismal and ill-timed; the jobs benefit is grossly overstated and primarily benefits overseas workers; and the tax revenue Mr. Davidson is so enamored of is coming increasingly from the taxpayer's other pocket by way of grants and subsidies.
When Mr. Davidson is able to break out of his laughable hoot, perhaps he will comment on his favorite Mt. Storm wind farm explaining why, after having been found to have caused incredible carnage to bats, owner Florida Power and Light "barred scientists from pursuing follow-up work, removed its $75,000 contribution from the research cooperative studying bat mortality, and ended the doctoral work of a graduate student who had produced two years of data showing unusually high rates of bat death at the two sites." (http://alleghenytreasures.wordpress.com/2009/11/16/a-conversation-with-jon-boone-–-industrial-wind-and-the-environment/)
Suggesting that I, the reader, spend my time researching Mr. Webb's position is truly a red herring to the debate over whether industrial wind is a viable option for this country's energy future. As one who once supported wind energy, I chose to use the industry's performance as a means of countering the skeptics. With the increasingly less than stellar results coming from Denmark, Germany, Spain, England and here, in the United Stated, I find there is ample reason to be skeptical.
Mr. Webb is not a threat to the industrial wind business. As I've stated before, "The greatest threat to the wind industry's growth is, in fact, the wind industry's growth.
--
Michael Morgan of Keyser, WV
Apr. 11, 2011 at 11:58 AM
Page 1 of 1 pages