Grosvenor Americas buys medical building in Fairfax for $43 million
August 06, 2012 5:03 PM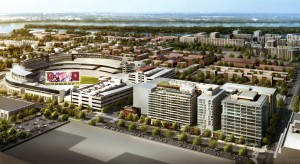 Grosvenor Americas said Monday that it has purchased a 120,000-square-foot medical office building in the Merrifield area of Fairfax County for about $43 million. Located at 3023 Hamaker Court, minutes from the new Merrifield Town Center and Dunn Loring Metro station, the property includes a three-story parking structure and adjacent land that could be developed into a second 120,000-square-foot building.
The seller was The Long Cos. of Middleburg, which developed the building in 2009. It's 75 percent leased to a several medical service providers led by Children's National Medical Center.
"This is an excellent acquisition for Grosvenor Americas due to the building's exceptional quality and access, including substantial parking, as well as its prestigious tenants and proximity to INOVA Fairfax …," Scott Brody, vice president, investments and general manager of Grosvenor Americas' Washington, D.C., office, said in a statement.
Grosvenor Americas has a U.S. portfolio of about 3.8 million square feet of commercial space, including 1.6 million square feet of office, retail, and hotel space in the Washington metropolitan area. It focuses in four other major markets besides D.C.: San Francisco, Los Angeles, Seattle, and Chicago.
Tweet
Reader Comments
There are no comments for this entry