Former rivals on same team
Historic agreement combines strengths of Virginia Port Authority and APM Terminals
August 30, 2010 6:00 AM
by Elizabeth Cooper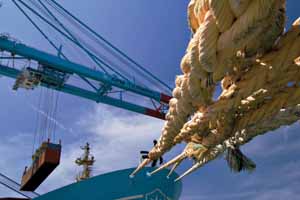 Strategically, it's one of combat's most potent moves: transform a powerful rival into a valuable teammate. With one less opponent in the way, advance forward. That seems to be the playbook for the Virginia Port Authority, which signed a historic lease in June with what had been a potentially fierce competitor.
The authority's 20-year, $1.2 billion contract with privately owned APM Terminals in Portsmouth puts all Hampton Roads cargo container terminals under one banner, presenting a unified front against competition from other East Coast ports.
In fact, "united we stand" could well be the port authority's new motto. Adding what is said to be the country's most cutting-edge marine terminal will position Virginia ports to draw new business. And the deal raises the stakes for the three private companies bidding for operating rights for the Port of Virginia.
"The most important thing is it unifies the port to the point where now, instead of competing against APM Terminals, we are competing against terminals outside Hampton Roads," says Joseph A. Dorto, president and CEO of Virginia International Terminals Inc., the VPA's operating arm.
Currently, VPA ranks third in East Coast port business behind New York City and Savannah, Ga. But the 2 million additional TEUs (20-foot equivalent units) that APM brings to Virginia's ports significantly sweetens the pot.
It took 18 months to hammer out the contract that took effect in early July. Under the agreement, VPA will pay APM approximately $40 million a year. By the time the lease is up in 2030, inflation would factor into base-rent payments, upping the payment to more than $70 million annually. APM Terminals is the port operating division of the Denmark-based A.P. Moller Maersk Group, the largest shipping line in the world. APM will continue to own the facility and its principal capital assets. Plus APM's corporate headquarters for the Americas Region will remain at the Portsmouth location.
Adding a modern facility to its fleet of terminals, which include Norfolk International Terminals, Portsmouth Marine Terminal, Newport News Marine Terminal and the Virginia Inland Port in Front Royal, gives Virginia's port authority an extra weapon in its arsenal to attract more shipping business to Hampton Roads.
The high-tech facility will be able to handle larger ships passing through the Panama Canal once widening there is completed in 2014. "Those ships will have 8,600 TEUs," Dorto says. "Today, the average container ship has 4,000 TEUs. We are the only port [on the East Coast] that can handle those ships without difficulties."
Bringing APM into its fleet also boosted the port's capacity just in time for this month's opening of Norfolk Southern Corp.'s Heartland Corridor. The double-stack rail link increases intermodal freight capacity between Hampton Roads and Chicago, reducing about 200 miles and a day's travel between the East Coast and the Midwest. The port also is preparing for the National Gateway Project that will improve CSX rail connections between East Coast ports and the Midwest in the next five to seven years. "The growth in the port is predominantly from rail business," Dorto notes. "We're in a good position."
Still, the sluggish worldwide economy over the past two years has led to weakened trade statistics for both the VPA and APM Terminals and cemented the entities' willingness to join forces. "Market conditions change with economic cycles, so we increase and decrease our activities and investments in line with commercial demand," notes Greg Fennell, chief commercial officer of APM Terminals. "Although our Virginia Terminal is one of the world's best facilities, it, like the other facilities in Hampton Roads, has been underutilized due to the economic crisis and commercial developments in the port. The chance to partner with the VPA offered a smarter financial and commercial approach to the market."
Dorto acknowledges that the port is taking on an additional expense in the midst of a still shaky economy. "We've got our work cut out for us, and we have got to ensure that we keep business coming in here," Dorto says. Still, he's confident that having APM on board will draw more business. "The biggest thing this terminal offers is productivity because of technology." Along with additional capacity, APM can accommodate ships that need a draft of 55 feet, and it has cranes big enough to handle the largest ships. Plus, it's served by both CSX and Norfolk Southern railroads.
The Port Authority's Board of Commissioners expects APM to bring in about $62 million in additional revenue this fiscal year — from $217.6 to $279.3 million — and revised its budget accordingly. However, that increase will be used for the operating expenses to bring APM under state management. For the fiscal year that ended June 30, the port saw a drop in revenue and had an operating loss of $9 million, due to a 1.6 percent decline in container volume. However, container traffic has been up during the last six months, and a 3 percent increase in volume is expected for the current year.
There seems to be no question, however, that the commissioners were impressed by the deal, because the board approved a $75,000 performance bonus for Executive Director Jerry Bridges in July, based in part on his efforts in securing APM. That bumped his total pay for fiscal 2010 to $376,600.
Fennell anticipates APM's volume will increase as the economy improves, and the facility can be expanded to double its current capacity. "We expect the terminal to be an integral part of the Port of Hampton Roads far into the future."
In addition, the VPA will realize a cost savings by leasing APM. Container traffic will move to APM from Portsmouth Marine Terminal (PMT), which will concentrate on cargo not transported inside containers, such as wood chips, logs, automobiles, steel and lumber. "PMT has 42 feet of draft and small, older cranes," Dorto notes. "To handle big ships, we would have had to have spent a huge amount of money. The money spent on leasing APM offsets the cost to upgrade Portsmouth Marine Terminal."
The deal also could be a game changer for the three private companies bidding for operating rights to the Port of Virginia. They are: Carrix Inc., a division of Goldman Sachs Infrastructure Partners in Seattle, the world's largest privately held marine rail terminal operator; The Carlyle Group, a Washington, D.C., private equity firm with investments in real estate and defense and automotive companies; and CenterPoint Properties Trust of Oak Brook, Ill.
CenterPoint was the first to formally show interest, kicking things off in March 2009 with an unsolicited $3.5 billion offer to manage the port over 60 years. The company is building a 5.8 million-square-foot warehouse and distribution center on 900 acres in Suffolk. Neil Doyle, CenterPoint's executive vice president, acknowledges that the APM deal will have a strategic and financial effect on any public or private partnership. "We have monitored the lease of APM closely and await word from the McDonnell administration on the next steps."
He adds that CenterPoint, which focuses on the development of intermodal centers, believes that the future of Virginia's ports lies in intermodal growth. "It's an exciting place to do business, and we feel we are in the strongest position to help that growth."
If port operation goes private, the winning bidder would oversee existing terminals. VPA could add another port to its fold. It recently submitted a bid to lease Richmond's struggling port for five years but stipulated that it would bring in another company to run it. Richmond has not responded to the offer.
A private operator also would play a significant role in building a new marine terminal at Portsmouth's Craney Island. The terminal will not be built for 10 to 15 years, after completion of landfill and dike construction. "Craney Island is still very critical to the port's future development," Dorto says.
For now, the focus remains on what APM brings to the port and playing on those assets. "We had a pretty good lock on our business, and APM had a good terminal with a lot of capacity," Dorto says. "When you put those two things together under one management, it's a winner."
Tweet
Reader Comments
There are no comments for this entry