Diverse company requires many talents
July 29, 2009 12:00 AM
by Elizabeth Cooper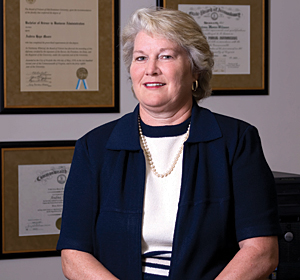 Andrea M. Kilmer doesn't have multiple personalities but she does have multiple talents. She has to. The chief financial and operating officer of The ESG Companies. in Virginia Beach handles a wide range of responsibilities for a company portfolio that ranges from shopping centers to residential projects, marinas, restaurants, computer training facilities, hotels and auto dealerships.
"It's not just one line of business in one industry," she notes. "We do everything from real estate transactions to managing the Virginia Beach Lifeguard Service.
The challenge in her job is to stitch together a smooth-operation from many disparate parts. In her 25 years with the company, Kilmer has learned how to analyze acquisition and joint venture prospects and to negotiate contracts and leases with tenants, service providers, vendors and lenders from the company's various divisions. So far, Kilmer has placed more than $500 million in financing for acquisitions and other growth initiatives. In addition, she has consolidated and organized risk management techniques. And she computerized and integrated all the firm's accounting systems.
Kilmer also manages the human relations component for ESG. This entails developing and managing personnel policies for more than 1,500 employees and designing benefits packages. Perhaps owing to her years of volunteering for community groups such as The Boy Scouts, the Virginia Beach Soccer Club, the Pungo Strawberry Festival and The YMCA, Kilmer works well with a variety of people. Colleagues portray her as a role model for CFOs, saying that Kilmer does not treat co-workers as subordinates, but wants everyone to achieve.
For Kilmer, the secret is success lies in a fresh and open-minded approach to business. "We do some very unique and challenging transactions," she says. "Our founder Edward Garcia's mindset is that you can accomplish goals if you just think outside the box and are creative."
As Kilmer has gained experience, she has obtained many certifications, in areas ranging from sports management to financial forensics. A Class A contractor, she holds mortgage and real estate brokers' licenses. With approximately 50 different entities among the ESG Companies, Kilmer says it is imperative to be well versed in all aspects of business. "It's not just one line of business in one industry," she notes.
Kilmer's versatility is a great asset, says Edward S. Garcia, Jr., vice president and general counsel of ESG. "She has a lot of adaptability and charm," he adds, noting that Kilmer is as comfortable conducting deals with international business leaders as well as negotiating a lease for a local pizza parlor. "Andrea is able to tailor opportunities and deal with people of all levels. She is the essential hub for our entire operation."
Tweet
Reader Comments
There are no comments for this entry