Companies looking for shared office space have new option in Richmond
July 10, 2012 2:38 PM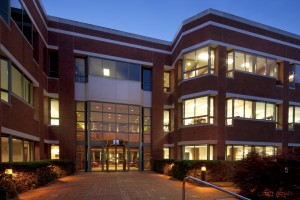 Acclaim Properties LLC has opened a new shared-space facility at the CenterPointe Office Building in northwest Chesterfield County. The Acclaim Business Suites, located on the third floor of the Class A, 63,000-square-foot building in Midlothian, offer 14 offices and include many of the amenities associated with large office buildings.
Amenities include a conference room/presentation facility that can accommodate up to 12 people with video conference capability, a break room/lounge/kitchen, a document preparation center with digital copying, scanning and printing, a postage meter and phone system. There's also high-speed Internet access, including WiFi, 24-hour access to the building with key pad entry and reserved parking.
According to Richmond-based Acclaim Properties, the suites are geared toward mobile executives, small businesses, professional services firms and independent contractors. "By locating within Acclaim Business Suites instead of leasing traditional office space or purchasing an office/condo, our clients have all the benefits of a large, fully-featured prestigious office without the capital outlay or long term commitment," Andrew Pegalis, managing member of Acclaim Properties, said in a statement. "Our ideally located executive office suites offer security, housekeeping services and other benefits that are usually reserved for larger offices. We take care of the infrastructure so you can focus on your business."
As more entrepreneurs and small businesses outgrow home offices in the face of a slowly rebounding economy, Pegalis expects demand for office suites to grow.
Acclaim offers flexible terms, ranging from 30 days to one year. Suites range in size from 100 to 200 square feet, with rental rates starting at $565 a month. Suites can be rented on a furnished or unfurnished basis. The CenterPointe Office building is located at 1 Park West Circle. The site is adjacent to I-288, Route 76/Powhite Parkway and is about 15 minutes from downtown Richmond, Short Pump and I-95.
Tweet
Reader Comments
There are no comments for this entry