Can Virginia stay in the game?
Bar association panelists examine state's competitiveness
September 01, 2011 9:22 AM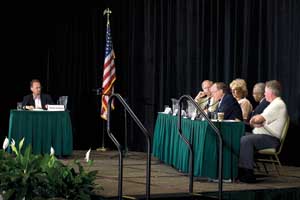 What advantages help Virginia compete for business prospects and what factors are holding the commonwealth back?
Those were the type of questions tackled in a panel discussion sponsored by the Virginia Bar Association and Virginia Business and in late July at The Homestead in Hot Springs. The VBA's Committee on Special Issues of National and State Importance, chaired by Hunton & Williams partner David Landin, assembled a group of legal and business leaders to offer their opinions on the topic "Virginia is for Business — Can the Commonwealth Stay Ahead?"
Virginia has consistently been rated as one of the top states for business in a variety of rankings. Economic development officials warn, however, that competition for business prospects is increasingly intense, with some states willing to cut eye-popping deals to boost their tax base and create new jobs.
View an edited version of the panel discussion below. You can also view a recorded version of the full-length discussion, which was simulcast live.
Welcoming remarks
I am David Landin, and I have the privilege of chairing the Committee on the Special Issues of National and State Importance of the Virginia Bar Association. On behalf of the Committee, Virginia Business magazine and the Business Law Section of the association, I would like to welcome you to The President's Showcase presentation: "Virginia is for Business – Can the Commonwealth Stay Ahead?"
The Special Issues Committee, as most of you know, is a standing committee for the Virginia Bar Association. It is a committee that is unique to bar associations throughout the country in bringing together as members nnot only the lawyers, but equally and importantly, those at the very top of their professions who collectively act as a think tank for the association.
To be specific, this committee has input from a former governor, Virginia trial judges, members of the Virginia Supreme Court, senior federal District Court judges, a member of the 4th Circuit Court of Appeals, university presidents, general counsels, senior business leaders, past presidents of the Virginia Bar Association and the Virginia State Bar, senior health-care professionals, deans of medical academic institutions, and managers of major health-care facilities, and the list goes on.
So, it isn't surprising that the convergence of thought led to a presentation in Waynesboro in January on the importance of energy resources for the Commonwealth of Virginia. And today, this very important follow-on discussion about the important intersection, or perhaps I should say, interaction on the future of the commonwealth among business, government, and the legal profession.
Consequently, it is my pleasure of introducing our moderator who I am proud to say is a member of the Special Issues Committee. Bernie Niemeier is president and publisher of Virginia Business, which has delivered high-quality business news to leaders in Virginia for 25 years. Bernie himself has spent 30 years in the newspaper business, 17 of which were on the corporate staff of Media General, where he was the division vice president in charge of, among other things, strategic planning. In 2007, he became publisher of Virginia Business, and ultimately, in 2009, he led a private equity-funded purchase of the magazine from Media General and now runs Virginia Business as an independent company.
Opening remarks and introductions (Bernie Niemeier)
Niemeier: Thank you, David, for the kind introduction and welcome for Virginia Business. I'd certainly like to extend my thanks to the Virginia Bar Association and the Special Issues Committee for the opportunity for the magazine to be co-sponsor at this event today.
I'm going to give some brief opening remarks, and then I'm going to introduce our panelists.
I would say that in the state of Virginia that there is rarely a political moment that goes by without Virginians making some sort of claim to superiority. Over the years, the commonwealth has been named the best-managed state and the best state in the business. Our cities and regions have been named the best places to live and even called gazelles for having a number of fast-growing companies.
In fact, history is on Virginia's side. We are, of course, the mother of the presidents. When it comes to business, perhaps the most frequently mentioned ranking in recent years has been Forbes.com's annual list for the best states for business. The commonwealth is number one on this list so often that business cards for the Virginia Economic Development Partnership touted our top-of-the heap status. Then after four years, we fell to number two last year behind Utah.
Another widely cited ranking comes from the cable TV network, CNBC, and Virginia just regained its top ranking from CNBC for 2011 after swapping the number one and number two spots with Texas annually for the past five years. In both 2009 and 2010, Virginia topped the list for pro-business states compiled by the Polina Commercial Real Estate Report. Other top five contenders in both years on that list were Utah, Wyoming, North Carolina and South Carolina.
Also widely cited as a business climate ranking by Site Selection magazine, Virginia fell from number three to number four last year, coming in behind North Carolina, Tennessee and Texas. And if that's not enough, Chief Executive magazine also has a list of best and worst states for business. Virginia came up number seven on the best list for 2011, falling from number four in 2010. The top five in the past two years on this list also included Texas, North Carolina and Tennessee.
Now, each of these lists has its own methodology, particularly ranking states on dozens of measures, which are grouped into categories, and weighted for importance to arrive at a final ranking. It's hard to make a definitive assessment of the overall results from so many sources. Virginia definitely ranks high, but can we stay at the top? And then just what is it about Texas?
The CNBC rankings are probably the most comprehensive. They use 10 categories to arrive at their overall ranking — cost of business, work force, quality of life, economy, infrastructure and transportation, technology innovation, education, business friendliness, access to capital, and cost of living. None of the other ratings use this many categories, and some do leave out important ones. The Forbes.com ranking, for instance, does not measure transportation except in terms of fuel taxes, whereas CNBC looks at transportation in terms of its infrastructure spending.
In 2010, Texas scored ahead of Virginia in five of CNBC's categories to take the number one spot. This year, Virginia regained the top ranking by besting Texas in six of the 10 categories. Now the biggest change for the two states can be measured against all in their respective economies. Texas dropped from first place for economy to 14th, largely because of nagging budget crises. And Virginia rose from 11th to eighth because of the relevant stability of this diverse economy and the ripple effects of federal spending in regions like Northern Virginia and Hampton Roads.
Now staying ahead requires that Virginia continue to focus on getting better. And Texas' top ranking on transportation measurements is a source of particular concern for Virginia where adequate long-term funding for roads and transit remains in short supply. Texas' fall from first to second in the overall list was largely due to a drop in performance on the economic rankings, and that turn of events highlights the importance of keeping Virginia's economy strong.
Our state has much that makes it an attractive place to do business. While the roads may need work, Virginia is one of the few states that have both a major seaport and a major international airport. And according to the corporate tax foundation, our corporate tax rates are relatively low, ranking 12th lowest in the U.S. By the way, Texas is 13th, close to us again. Now, when you look at states that have the lowest corporate tax rates, in my opinion, they really don't have much to recommend them. South Dakota, Alaska, and Wyoming are the lowest three. And then also in our favor is that we are the northernmost right-to-work state on the East Coast to make us favorable to live and work in.
Ongoing workforce investments in produce more STEM (science, technology, engineering and mathematics) graduates, smaller class sizes and better early childhood development are also important. And in addition to having reasonable tax rates, the tort law environment in Virginia is also relatively business friendly.
So, I guess as we look ahead, keeping our state economy healthy is of prime importance. Texas-sized budget potholes could easily undermine our work-force investments and our education investments and potentially require new tax revenue to keep our budget balanced. Gov. Bob McDonnell's success this year in finding nearly $3 billion for investments in Virginia's transportation infrastructure was largely the result of debt financing. And this money needs to be backed up with a long-term funding plan. However, if Virginia stays focused on areas that make them a competitive place to do business, we should continue to rank at the top of all of these lists, and we will continue to mess with Texas.
So, with that background, let me introduce our group of esteemed friends and robust panelist speakers. Starting on our far left, we have Dr. Glenn DuBois, the chancellor of Virginia's community colleges. Dr. DuBois became the system's chief executive in July 2001 and has strategically positioned Virginia's 23 community colleges to increase the commonwealth's rate of higher education participation. The Virginia Community College System has signed unprecedented transfer agreements with more than two dozen public and private four-year institutions. They have enhanced their work-force development services enabling the commonwealth to make headlines bragging about economic development deals. They have doubled their foundation-led profit fundraising. They've shattered their student enrollment records and successfully completed the Community College System's first-ever strategic plan. Prior to coming to Virginia, Dr. DuBois served as the commissioner and CEO of the New Hampshire Community Technical College System, as well as the director of community colleges for the State University of New York.
Dr. DuBois received his doctorate in higher education administration from the University of Massachusetts. He has a master's degree in juvenile justice and criminology from Eastern Kentucky University, a bachelor's degree in criminal justice from Florida Atlantic University and an associate of science degree in police science from the State University of New York in Farmingdale. And when he's not at work or spending time with his family, DuBois can be found on the trusted bicycle that he has ridden across thousands of miles throughout Virginia and beyond.
On Dr. DuBois' right, we have our next panelist, Mr. Julien G. Patterson, the founder and chairman of Omniplex World Services Corp. Mr. Patterson leads Omniplex and for the past 21 years, he has guided this firm from a startup to become a company with $100 million in annual revenue that now has 3,100 employees worldwide.
Mr. Patterson's security career began with the Central Intelligence Agency, where he designed a wide variety of specialized security training programs. Serving 10 years with the CIA, he was responsible for leading worldwide global training teams.
In 1987, he left the CIA to begin his career as an entrepreneur and a consultant. In 1990, Mr. Patterson founded Omniplex World Services Corp. Omniplex has two fully-owned subsidiaries—Omnisec International Investigations Inc., and Ominsec International Security Services Inc. Mr. Patterson and Omniplex have received numerous recognitions. Among them, in 1997, Mr. Patterson was named the Greater Washington Entrepreneur of the Year. In 2000, Omniplex received the Fantastic 50 Top Award in the highest overall revenues category as one of the fastest-growing companies in Virginia. In 2001, it was named one of the top 100 diversity-owned businesses in Virginia, ranking second in the state.
Mr. Patterson is a former chair of the Virginia Chamber of Commerce and has also served as president of the Virginia Public Safety Commission. He is the former board member of the Virginia Foundation for Community College Education and the Virginia Foundation for Independent Colleges. Mr. Patterson is currently the chair of Virginia FREE and is also the current chairman of the Virginia Economic Development Partnership.
In the center of our panel, we have the Honorable Whitton W. Clement, current chair of the Virginia Chamber of Commerce board, and he is also partner at the law firm of Hunton & Williams where he heads up the firm's Virginia Lobby and Government Relations Team. He served as transportation secretary for Gov. Warner from 2002 until April 2005. And prior to joining the Warner administration, Mr. Clement was a partner in the Danville law firm of Clement and Weakley and was a member of the Virginia House of Delegates for 14 years. He is a former chair and current member of the State Council of Higher Education for Virginia and a former president of the Virginia Bar Association. He is also a graduate of the University of Virginia's undergraduate and graduate law schools.
On Whitt's right, we have Susan Horne, president and chief executive officer of LEAD Virginia. Ms. Horne has served as president and CEO of LEAD Virginia since March of 2007. LEAD Virginia is a statewide leadership initiative that informs, connects and engages a network of leaders across an array of disciplines. Susan played an integral role in the inception of LEAD Virginia by serving on a steering committee and later on its board of directors. She is a graduate of the LEAD class of 2006.
In 2009, LEAD Virginia was honored by VCU's Wilder School of Government with its community enhancement award. LEAD Virginia has also been recognized by the Virginia General Assembly for its work in building a statewide network of leaders serving the commonwealth.
Prior to getting to LEAD Virginia, Susan served as president and CEO of Leadership Fairfax. She was elected to the Leesburg Town Council in 2004, and in 2006 was elected vice mayor. Susan holds a master's degree in public administration and earned her bachelor's degree in political science from the University of Texas in El Paso. She is a 1999 Fellow of the Thomas C. Sorensen Institute of Political Leadership at the University of Virginia. She's a former CEO of the Loudoun Chamber of Commerce. Susan currently serves on the boards of the Virginia Leadership Association and the Richmond Retail Board for the Sorensen Institute of Political Leadership. She was honored in 2007 with the Fairfax Chamber of Commerce's Blue Diamond Award recognizing excellence and corporate citizenship
And last, but not least, is our panelist on the far right, the Honorable Justice William C. Mims. Justice Mims became a member of the Supreme Court of Virginia on April 1, 2010 after serving as attorney general of Virginia from February 2009 to January 2010. He previously served as chief deputy attorney general beginning in January 2006. He also served on the Virginia House of Delegates from 1992 to 1997 and the Virginia Senate from 1998 through 2005.
Justice Mims grew up in Harrisonburg and was educated in the Harrisonburg public schools. He received a degree in history from the College of William and Mary, where he was president of the student body. He also did graduate work in public administration at William and Mary, and he has law degrees from George Washington University and Georgetown University.
During his years in the General Assembly, Justice Mims worked as an attorney in Leesburg. Prior to practicing law, he served as chief of staff to U.S. Rep. Frank Wolf and as deputy legislative director to Sen. Paul Trible. He served on the board of governors for the Virginia Bar Association from 2002 to 2004 and was a distinguished adjunct professor of law at George Mason University from 2002 to 2005. Justice Mims presently serves on four nonprofit boards — LEAD Virginia, the Virginia Behavioral Authority, Voices for Virginia's Children, and the Virginia Healthcare Foundation.
We're going to start out talking a little about the tax environment and the revenue strategy for the Commonwealth. And this first question goes to Mr. Julien Patterson. So, Julien, I mentioned corporate tax rates a minute ago relative to some states pretty far out West, but how do our tax rates compare to neighboring Southeastern states and other states where we've successfully recruited businesses to relocate, such as California or New York? And are these differences, in your view from the Virginia Economic Development Partnership, a major consideration for companies relocating to Virginia?
Patterson: Virginia's 6 percent corporate income tax rate is tied for second lowest in the Southeast region with Georgia. We're just behind Kentucky at 5.85 percent. Our 6 percent rate has and I believe will continue to be a compelling relocation factor for businesses in California whose rate is about 8.84 percent and in New York at a rate of 7.1 percent. Now, are these differences a major consideration for companies relocating to Virginia? I would suggest that if you're in California or New York and you're on the board or making that critical decision, the difference in our rates is a compelling factor as you work through that decision-making matrix.
Interestingly, in the national picture, Virginia is tied for 16th lowest corporate income tax rate in the United States. We're tied with again Georgia and Oklahoma. That ranking includes three states which have no corporate income tax — Nevada, South Dakota and Wyoming.
More times than not, the decision to headquarter or expand in Virginia is not just about our low corporate income tax rate, but also about our advantages in work-force availability and quality, transportation, energy costs, regulatory environment and overall quality of life.
Last year, Virginia's Joint Legislative Audit and Review Commission (JLARC) completed a two-year study of our corporate income tax system. They produced a 188-page report that essentially boils down to this. It says that our 6 percent rate is favorable. This along with other factors like right-to-work and low business costs is applied time and time again as we've been selected as the best place of doing business. I would be remise here if I didn't take a moment to mention that the General Assembly has been very responsive in their attention to Virginia's need to retain a low corporate income tax rate system.

Niemeier: Whitt, how much of a factor are BPOL taxes at the local level? Do they make a difference for companies looking at specific localities within a region?
Clement: If you look at different jurisdictions within Virginia, the BPOL tax is used as an incentive to attract different types of businesses. Let me first say, BPOL is an acronym for the Business Professional Occupation License tax. It is totally administered on the local level, it's collected on the local level, and the money stays on the local level.
It's been controversial for a number of years because it has nothing to do with a business' profit. It's basically a tax on gross receipts. And so over the last four or five years in this difficult economic times, a lot of small businesses have really been more united in expressing opposition to their having to pay this tax when they are really struggling to stay in business and are not making any profit. This simply exacerbates this situation.
Being a Dillon Rule state, there's a law on the books that lays out the different enterprises that are substitutes for the BPOL tax and the levels that the rates would apply. The statute says that the rate cannot exceed certain of the following rates in a number of categories, and one of them is for financial real estate and professional services, which of course would involve law firms. The law says that any locality can impose a tax at a rate not to exceed 58 cents per $100.
When you then consider whether or not these taxes make a difference in attracting business from one locality to another, you begin to see how that could be used as a tool of economic development. Although limited by its flexibility by the General Assembly, the statute states that the rates may not exceed the rates set forth in those various categories. So, a couple of examples: Henrico County charges a maximum of 20 cents per $100 for financial real estate and professional services, which is well below the 58 cent seeding. The City of Richmond, on the other hand, takes full advantage of that state seeding, and you pay it at a higher tax.
One interesting example is in Fairfax County. [For] Software developers, [which are} defined in the Fairfax County Code [as having] gross receipts are derived solely from the design, development, or other creation of computer software …at a place of business within Fairfax County, there is a 100 percent exclusion in the paying of the BPOL tax. Surely that is most definitely a strong economic tool for Fairfax County as opposed to its neighboring jurisdictions.
There have been lots of attempts over the years to weaken or really eliminate the BPOL tax…Because of the recession, these efforts have really seen more success in the last couple of years than ever before.

Niemeier: Let me follow up on that with a question about personal income taxes. It's been awhile since there were any personal income tax increases in Virginia. Is there a danger to business that higher state revenues might have to come from corporate taxes and fees, rather than personal income taxes simply because that would be more popular with voters?
Clement: I don't really see that happening. Traditionally, Virginia has linked the corporate tax rate with the personal income tax rate, and it's been about a quarter of a percent difference over the years. Virginia is very proud of its relatively low corporate tax, something the McDonnell administration has emphasized. On top of that, we've got the anti-tax climate that has gripped the whole country, as we've seen being displayed in Washington.

Niemeier: Susan, do you see cooperation differ from region to region across the state? And how does that affect the business environment?
Horne: We have seen a number of examples of regional collaboration, some of which are joint efforts, joint alliances of organizations and people who come together to accomplish a common vision. Others are coming in an emerging stage. And then we've seen some examples of game-changing or transformational collaboration in the Commonwealth.

Examples around the commonwealth of successful collaboration include Washington Airports Task Force, which has been around for some years and was formed to take the asset of Dulles International Airport and promote its use…
The Hampton Roads Partnership in Hampton Roads consists of 17 jurisdictions that come together to address some very key issues — water resources, the port, the military presence, and so on — that have a major impact on the economic viability of that region.
We also have the Lynchburg Region 2000, which has been 10 years in existence, and brings together not just the local governments, but also economic development agencies, work-force investment boards, the young professionals in central Virginia and the technology council, as well as the Center for Advanced Engineering and Research.
And then there's the Crossroads Institute, which is a combined effort of the public sector, the education sector, and small-business development center [based in Galax]. They are creating a framework for successfully growing their entrepreneurial sector.
Some emerging examples that are as yet untested that I mentioned include the Southern Virginia Regional Alliance,, [in which] a number of jurisdictions in that area are coming together and assessing how they can market themselves as a region…, We also have a private-sector effort under way in Roanoke and the New River Valley that is just now getting under way. …
And finally, the transformational breakthrough models of innovation that I call game changers include the Commonwealth's Center for Advanced Manufacturing. A driver for that center was the location and its voice in the advanced manufacturing facilities there. As a result of that effort, it's bringing together the resources and the knowledge base of the University of Virginia and Virginia Tech and a number of private-sector departments that has much potential to be a game changer in Virginia.
There's a [Northern Virginia Life Sciences Communities] that is an alliance between George Mason University and the economic development agencies in Arlington, Fairfax, Loudoun and Prince William. They are leveraging the assets of the private sector organizations and companies in biotech, bioinformatics, and biosciences, as well as the fact that they have a number of federal agency assets in Northern Virginia to work towards building a competitive advantage against Maryland's [biotech] corridor.
We have SRI in the Shenandoah Valley that's doing some groundbreaking drug research.. They're using the assets of James Madison University and the Shenandoah Valley Partnership.
The Virginia Logistics Research Center in the Crater region, the Petersburg area, is taking advantage of the expansion of the role of the role of Ft. Lee….
And finally the Virginia Tech Carilion School of Medicine and Research Institute, which was founded in 2007 in Roanoke, includes an innovative medical school, as well as an interdisciplinary research institute. The medical school accepted its first class of 42 students, and they have an adult learning model that is very unique…
Those are examples that I consider game changing examples in Virginia to capitalize on and to really move us forward for the future.

Niemeier: Julien, one more question on taxes before we leave that topic entirely. Are there other adjustments or incentives that Virginia can make to ensure that we remain an attractive place to do business?
Patterson: First of all, we need to continue efforts to develop Virginia's innovation in the economy. Virginia needs a more robust set of tools to reach its potential in research and innovation-driven enterprise. We need tools that allow us to increase our ability to leverage our world-class research assets in universities and [research] labs in the Commonwealth.

A good step in that direction was taken by the General Assembly earlier this year in incorporating $10 million to help boost the Commonwealth's Research and Global Commercialization Fund. That fund does three things. It brings new and emerging technology to the market, it provides matching funds for small-business innovation research grants,, and it provides new funding for the Center for Innovative Technologies gap-funding financing fund.
These all contribute to building an emerging technology fund of sufficient scale and impact to position Virginia as a recognized leader in this arena. And that's what we want to do. I should note here also that the General Assembly enacted a new R&D tax credit that will help stimulate new innovation in Virginia. So, we need to continue in efforts to develop Virginia's innovation in the economy.
And we might also say we need to have an aggressive life sciences strategy. The Virginia Economic Development Partnership is working with the administration and with our research universities in developing a consensus of what that strategy needs to look like. But early inquiry is focusing on several key subsector points that focus on Virginia's core research strengths, such as medical informatics, point-of-care diagnostics and drug development delivery.
To that I would also like to say that we need to focus on incentive grants for key target markets, such as alternative energy. The Clean Energy Manufacturing Incentive Grant program, CEMIG, was finally approved this year. This program requires a new tool to negotiate performance brands to companies making parts, equipment and components that are used for the generation of clean energy. What's significant here is that these grants will be tied to a precise metrics for job creation and capital investment, and the grant amounts that will be provided will be based on the state's expected return on investment. So, a very good program,, indeed.
As well I would say that we need to continue the effort to rationalize the work-force delivery system. We need to bring existing resources together in a more integrative and more focused way. The Virginia Community College System rightfully is at the core of the work-force development delivery system, and it must have adequate resources and flexibility to carry out its mission.
Now, an important step taken by the [General] Assembly this year was in targeting new funding to help support non-credited instruction for employees seeking skills upgrades, which benefit both them and their employer. And the other point that I want to make sure to mention here is that we need to have a discussion, if not a constructive debate, about project financing tools. Many states have engaged in more aggressive project financing arrangements than Virginia. …They are offering long-term low interest or zero interest loans to win new projects. I'm not advocating that approach per se to this forum, but I do think it's important to say here that it's important that policymakers and stakeholders are aware of the extent in which our competitors are going to attract new business. At the end of the day, the right decision may be not to cross certain risk thresholds in our economic development programming.

Niemeier: Okay, let's turn to what I call some structural factors of government in the commonwealth. Glenn, Virginia's system of independent cities is relative unique in the U.S. And I'm wonder sometimes when it comes to final location choices for businesses, if this is a factor? And whether or not Virginia's cities are, in fact, handicapped when it comes to providing higher-quality essential work force services such as education?
DuBois: I've been in the community college business for 30 years, and increasingly we are part of that recruitment process of getting a company to relocate or to stay or to expand. We weren't invited 20 years ago or 25 years ago because other issues were important — tax code, other infrastructure issues. But today we're talking to, let's say, an advanced manufacturing company who is going to invest millions of dollars in equipment. They must have a skilled employee operating that equipment [and they] do not believe that 12th grade is the finish line anymore to be an entry level worker.

They can check all the [economic development] boxes that look favorable, but if they do not believe that there is a quality work force, they simply won't come. So, that has become the deciding factor.
Now, in Virginia, we have benefited because we look very good in some regions with respect to the quality of the work force and not so good in other regions. Virginia has imported lots of [people with degrees], all my degrees are outside of Virginia. We have not done a good job in producing degrees among many in the population. In fact, we rank well behind the nation. And, we're at a point in time now where 12th grade is simply not the finish line. And where we have imported those degrees from other states, they are now catching on. They are trying to do everything they can to hold on to those degrees. We really have to up our game with respect to educating our population. We are falling behind.

Niemeier: Another structural issue is that the commonwealth is the only state in the U.S. at this point that does not allow a sitting governor to run for re-election. I wonder if this affects the speed of change in our legal and economic environment or our ability to take action on long-term problems?
Mims: Let's look at the historical perspective on this because it is rather interesting. Fifty years ago, about one-third of the states in the nation did not allow their governors to succeed themselves. Now, in 2011, Virginia is the only state. All of the other ones have made that structural change within the past five decades.

There are, though, two states that limit their governors to four years as does Virginia, at least with regard to non-consecutive terms. Those two states are Vermont and New Hampshire, but those are two two-year terms. So, anyway you look at it, Virginia's perspective is very much a minority perspective.
Historically, when you go back to post Colonial times, Virginia was legislature-dominated. The legislature appointed the governor for up to three one-year terms. In 1851, the current system was adopted, and it has remained that way until today.
There was a very robust debate in 1969 when the current Virginia Constitution was being debated. The issue was whether to have a single four-year term or whether to allow two consecutive four-year terms. Curiously, every former governor of Virginia at the time opposed the idea of consecutive terms, and consequently, our current constitution continued to prohibit it.
In 2004, the General Assembly took a very systematic look at this issue. At that time, the five former governors and the sitting governor were pretty much across the map. Two of them thought that there should be a single six-year term. One believed that the current system was preferable. And three of them believed that there should be two four-year terms.
The General Assembly since 2004 has debated each year legislation to put a constitutional amendment in front of the citizens for two four-year terms, but each year it has been defeated in the House. Public opinion polls tend to indicate that it would pass if it went to the citizens as a constitutional amendment.
Ultimately, the issue boils down to, if you have two four-year terms, you increase the institutional power of the governor and presumably at the expense of the legislative branch. By one measure, institutional power of Virginia's governor ranks 37th out of 50 states. The other states that have gone to consecutive terms typically have given countervailing power to the legislature as well, either by increasing the number of legislative days or increasing the professional staff of the legislature.
In Virginia, our professional staff is essentially the House Appropriations Committee staff, Senate Finance Committee staff, JLARC's staff, and the Division of Legislative Services. So other states have significantly increased their professional staff as a counterweight to the staff that the governor controls.
And, finally, in many states, the point of power has been changed when that institutional change has been made. Virginia's governors appoint approximately 4,000 individuals for 354 boards. So, one of the issues has been, if indeed we go to two four-year terms, should the General Assembly have a greater say in that appointed power?

Clement: It surprises me that Virginia is consistently at the top in so many of the different categories that rank states, and if this is current, then I'm very excited at the outset, in spite of the fact that governors cannot succeed themselves in Virginia. So, that's a bit contradictory to my opinion. I think it really hurts Virginia that governors can't succeed themselves… Gubernatorial candidates are very conservative in their policies. So then when one is successful and then achieves an office, then has to work very quickly to make a name for his administration in a very short period of time. It takes about six months for an administration to get up and running. And then in the last six months, people who are in the administration are looking for another job. So, governors usually have about three years to get something done. When you look at the challenges that we have what with the workforce development, K-12, or transportation, it doesn't give a one-term governor a lot of wiggle room to get a lot of done. I would submit that if a governor could succeed himself or herself …he or she could be bolder and lay out more of a long-range plan that would give us better opportunities to meet some of the challenges we face.

Niemeier: Virginia is a Dillon Rule state. Let's start with an explanation of the Dillon Rule and then discuss if you think if it positively or negatively affects business and economic development.
Mims: Interestingly enough, for those who are history geeks as I am, the Dillon Rule emerged in the late 19th century and is the dominant theory of state and local relations. The Virginia Supreme Court talked about the Dillon Rule in 1990 in an opinion by Justice Stevenson [that is] a very cogent explanation of the Dillon Rule, and I'll quote from it.
"In determining the legislative powers of local governing bodies, Virginia follows the Dillon Rule in strict construction. The Dillon Rule provides that municipal corporations possess and can exercise only those powers expressly granted by the General Assembly, those necessarily or fairly implied there from, and those that are essential and indispensable. If there is any reasonable doubt whether a legislative power exists, that doubt must be resolved against the local governing body."
The best response to that doctrine comes from Jay Fisette, the former chairman of the Arlington Board who said, "We have to go the General Assembly for pretty much everything, except to brush our teeth in the morning." I think anti-tooth brushing legislation was put in the following year.
The doctrine actually dates back to 1816. The Massachusetts Supreme Court held that "towns are the creatures of the legislature and may exercise only the powers expressly granted to them." So, really it goes back close to the beginning of the republic, and it deals with the nature of sovereignty.
Did citizens grant in trust their sovereignty to their localities or to their states? The robust debate began after the Civil War, particularly with corruption in many municipalities throughout the country were causing there to be a desire to put limits on what localities could do. The person who had the most say was Judge John Dillon of the Iowa Supreme Court, who was the pre-eminent municipal government expert nationally. And after first expressing Dillon's Rule in two cases in 1816 and the late 1860s, then wrote a treatise on municipal government. . But let me quote from one of those cases: "It is a general and undisputed proposition of law that a municipal corporation possesses and can exercise the following powers and no others. First, those granted in express words; second, those necessarily or fairly implied in or incident to the powers expressly granted; third, those essential to the declared objects and purposes of the corporation, not simply convenient, but indispensable. Any fair reasonable doubt concerning the existence of the power is resolved by the courts against the corporation and the power is denied."
That's from 1865, and if you compare that to the Virginia Supreme Court's latest pronouncement in 1990, they are essentially the same, although the language was certainly much more flowery 125 years prior. At the same time that Dillon's Rule was being propounded and was becoming quite popular after that treatise was written, there was a countervailing philosophy, the home rule philosophy that was expressed in what was then known as the "Cooley" doctrine.
To give you an indication of which is the majority view, and you've heard a lot about Dillon's Rule, but I doubt that too many of us have heard about the Cooley doctrine in our law practice. But that was named after Judge Justice Thomas Cooley of the Michigan Supreme Court who basically said that home rule was the nature of government, and the localities have the inherent right of self-governance, from whence that inherent right sprung, I don't know. And interestingly enough, about a decade later, Justice Cooley said, and I quote, "There's a principle of law that municipal powers are to be strictly interpreted, and it is a just and wise rule." So, I think that Justice Cooley eventually also became a follower of Dillon's Rule.
In Virginia, the Dillon Rule is alive and well. It really can only be changed in one of three ways. It is a judicially created doctrine, so the Virginia Supreme Court could decide to go in a completely different direction. There is a certain principal doctrine known as "stare decisis" though in Virginia, and it is at least as robust as Dillon's Rule. So, I don't see our Court moving in a dramatically different direction in that regard.
The General Assembly, by statute, certainly could move the state in that direction, or by constitutional amendment. The General Assembly also has not shown any intention of doing so. I would point out though that from a legislative perspective, during the 14 years I was in the legislature, I think the General Assembly did loosen the strings marginally on localities by giving through statute or through local charter broader powers than had been given before. But really those were marginal changes, not dramatic changes. So, that's the historical perspective.

Niemeier: Let's turn a little bit to work-force development now, and go back to Dr. DuBois. Glenn, the availability of good workers affects every business, and what is the commonwealth doing to ensure that its work force will remain competitive?
DuBois: Well, the short answer is that we need to do much more. You know, if you look at our political institutions, then one can observe that Democrats and Republicans can find virtually nothing to agree on. But there is one that they all agree on, that we must produce more college- educated workers in the economy. The president has called for millions more in the next decade. Bob McDonnell, when he was a candidate for governor, called for 100,000 more college degrees in the Virginia government over the next 15 years… The stakes are very, very high. I never thought in my lifetime that we, as a nation, would slip from first place (but proportionately, probably a close second, based on credentials), that we would lose that position, and we have slipped not to second, or third, or fourth, but we're probably tied for ninth or tenth. The current generation that's kind of running the show in this country, the baby boomers, [was] the best educated generation in the history of our country. And unless we change really fast, we will be replaced with a generation that is less educated. We must produce more college-educated workers in our economy, because that's where the jobs now go. And it's not whether we compete with Texas or North Carolina, it's now competing with the world…
I haven't seen financial policies line up with the overall policy of trying to achieve more college graduates in our economy. Higher education could become the next bubble that bursts and crashes because of the way we are financing it. It is putting increasingly tremendous financial burdens on American families. On a comparative basis, [community colleges] look pretty attractive at our $3,000 a year plus expenses, and that, by the way, is driving much of Virginia's market to the community colleges. We now have almost two-thirds of the undergraduate population in the public sector of higher education. However, I'm not proud to say this. I've been chancellor for ten years, and we have increased tuition every year that I've been here, and in two years, we did it twice in one year. So, I do think the financial policies need to synch up with the overall goal, and we're just not there yet.

Niemeier: Julien, in exploring that a little bit more, are college graduates that we're producing the types needed for the job openings that are available?
Patterson: Virginia continues to see high numbers of graduates from its colleges and universities, and I want to point out that Virginia's unemployment rate is lower than the national rate. And if you think about those two together, it would appear to be some sort of optimum matching that we're enjoying perhaps better than other places throughout the United States. Now, that's the short answer in which I have oversimplified the issue considerably because Virginia's higher education institutions annually confer over 88,000 two-year, four-year and postgraduate certificates.
The top job offerings are a mix of analytical, engineering, technical, health-care, information technology, and non-technical occupations. Virginia's colleges and universities are responding to these needs in the workplace and for the marketplace, and their offering degrees addressing these needs. For example, Virginia Tech and VCU quickly developed new nuclear engineering programs in response to renewed interest in nuclear engineering and also in response to concerns for the pending retirement of skilled professionals in the current work force. U.Va. created a unique program that they call Engineers Produced in Virginia, and they created that in partnership with Areva and Central Virginia Community College. What it essentially does is it creates a pipeline of new engineers to fill their anticipated need for upcoming retirement and new positions. In addition to that, colleges and universities that have generally been viewed as liberal arts institutions have also responded with engineering degree programs, such as Sweet Briar College and Liberty University. The resulting efforts are an increased number of engineering students in Virginia several-fold.
I would add also that there are other efforts to develop innovative programs to meet requirements. Cyber security programs are being developed at a variety of institutions throughout Virginia — George Mason University, VCU, ODU, James Madison, just to name a few. So, the bottom line here, I believe, is that the higher education community has shown that in response students aren't necessarily selecting the careers where the demand is right for employment. It's important to note here for a point of fact that STEM (the Science, Technology, Engineering and Mathematics) awards are increasing in numbers, but as a percentage of total awards conferred, they are decreasing. So, what I am essentially saying is that the STEM awards for the academic year 2001-02 were at 18.1 percent, and for the academic year of 2009-10, they were 14.7 percent. So, clearly, more must be done at the primary and secondary educational levels to stimulate student interest in accordance with the demand and the possibilities for future employment. The Virginia Foundation for Community College Education has stepped up and is on the right track here. They're advocating career coaches. Career coaches are individuals who would enlighten and inform younger students and their parents about career options and opportunities that will be available in the fullness of time, you might say, so that they might make better decisions about what they want to study. So, yes, Virginia continues to see high graduates, but it's a bit more complicated than that.

Niemeier: Thank you, Julien. In the interest of time, I'm going to jump ahead just a little bit, but I want to ask one more question of Dr. Dubois on education before we leave that topic, and that is, Glenn, the business community is being encouraged through a variety of initiatives to get more involved in K-12 education. Do you think this is going to get financial traction in the business community, or is it really something that is going to ultimately fall back on the responsibility of the government?
DuBois: Oh, I don't know. I think education is too important just to leave it to the government. Certainly the business community probably has the biggest stake here in not educating the workforce. Julien referenced STEM, for example. Our production of STEM graduates is relatively low, about 15 percent. It really hasn't changed. We've started to see a little pick up. You go to China, over 50 percent of their college graduates are in STEM. Julien also referenced career coaches. The career coaches are community college employees that live in the high schools, and they are there about 25 hours a week. And after one year with a career coach, we've seen an increase of postsecondary participation, that increase jumping on average 8 percent after one year where that high school had been stagnant for a decade. And we now have a focus on STEM. STEM seems to be generating a lot of interest. And, I'll end with this. Julien also referenced in his role as chairman of our foundation, an effort where we want to reach out to the business community to raise funds to hire more career coaches. We're in about half of the high schools now in Virginia, but we need to be in all of them. And I have business cards with me if anybody would like to participate in the fundraising campaign to put more career coaches in high schools.

Niemeier: Thank you, Glenn. We're fortunate to have an expert on transportation on our panel, and I want to make sure that we get some transportation questions in. Whitt, transportation funding is certainly one of Virginia's most pressing needs as we alluded to earlier. Just this year, the General Assembly did pass the $3 billion for transportation funding. How far will that really go? And if it's not enough, what is needed and over what period of time?
Clement: Thank you, Bernie. Let me approach this this way, because I know this is something that we live everyday unless you're in certain rural areas of the state. Most experts, most people who follow this subject of what needs to be done about Virginia's transportation system funding, use the number of a billion dollars more a year that's needed. And the numbers are so high. How do you get your arms around a figure of a billion dollars a year? Well, there are three primary drivers of transportation funding in Virginia. We all know about the gas tax at 17.5 cents per gallon. When you go to the service station, a bit of that is preventive maintenance, some of it is construction. And then under the initiatives of Gov. Baliles, who I'm happy to see with us today, at a special session that he called back in 1986 (this is the 25th anniversary, in a sense, on that special session on transportation), there was a half cent on the general sales tax dedicated to transportation. So, if you were to buy a television and you paid your 5 percent general retail sales tax, a half of a penny of that goes into what's called the Transportation Trust Fund. And then the third example is if you purchase a car, new or used, there is not the 5 percent general sales retail tax, but 3 percent. So, if you buy a $30,000 car, there's a $900 add-on for transportation. If you were going to try to address the generally accepted, gosh, if we had a billion dollars more a year, we could get back, start getting back to where Virginia needs to be. If you raise the gas tax by one penny, it's about $50 million. Now, people, experts will say, well, it's not really $50 million per penny more because the $50 million is used to keep those cars more efficient and are not using as much gas. But if you just round it up between $40, 45, or 50 million per penny, it has increased the gas tax by 20 cents. You know, we'd be there, and we don't want to increase the gas tax by 20 cents. It's already at 17.5, but that sort of puts in perspective, the gap between what we have and what we need. Just some examples of how critical things are, as if we need examples. With the recession over the last several years, $4 billion have been cut from the transportation program in its sixth year. As an update, the transportation program every year for a six-year program, over the last several years, $4 billion have come out, because the revenue forecast didn't show that that money would be there. Almost 45 percent of Virginia's roads are congested. We are No. 11 in the country on the worst bottlenecks. Washington and Northern Virginia are ranked as the nation's second longest commutes. Growth in the motor fuel tax revenues are decreasing, as I mentioned with alternative fuel vehicles. Also, Virginia is going to have to take over the cost of Amtrak in the year 2013. Gov. McDonnell had an initiative that would be passed to establish an inter-city passenger rail fund. The problem is there's no money identified to go into that fund. And it's well documented that many of Virginia's most critical projects cost literally in the billions of dollars. A new wrinkle, and you may have seen this in the Richmond paper the other day. Wallop's Island, the space program, Orbital Sciences is trying to partner with the state so that Wallop's Island can pick up the slack when we shut down the NASA program in Cape Canaveral. Virginia has spent $6.5 million at Wallop's Island, and that's all been through bonds. Orbital Sciences and some other companies have spent upwards of $80 million, and they say we can't keep doing this unless we have a healthy partner with the state if we really want to develop that resource at Wallop's Island. So, Gov.r McDonnell, as part of his campaign platform and in coming up with a transportation plan, had a pretty innovative, very timely program that enjoyed more bipartisan support this winter, and all the business community got behind it; however, it was all done with the recognition that it's a short-term fix. And the governor himself has said, though he hasn't been able to identify for whence the funds will come, that we still need a long-term, sustainable source of new revenue for transportation. But when Bernie mentioned the $3 billion package that the General Assembly passed this winter, that will help tremendously. And, you know, we're now seeing the inconvenience of some of the road projects that are taking place in Virginia now. Virginia has been able to earmark future federal revenue for the issuance of bonds. I don't know whether that program is going to be imperiled with what might take place in Washington on the debt deficit spending debate going on there now. But of that 3 billion, 1.2 would come from the anticipation of future federal revenues. The General Assembly because of the recession, because of the low interest rates, because of the needs of creating jobs, chose to borrow that package to accelerate some bonds that had been approved and authorized in 2007. Accelerating those bonds will get more projects on the street faster. The Governor also initiated the creation of an infrastructure bank program called the Virginia Transportation Infrastructure Bank. Those guidelines are being formulated now. They've identified $282 billion to go into that new bank. Guidelines should come out in September. It contemplates working with local governments on highly critically needed projects, either through low interest loans, and up to a certain cap, 20 percent could actually be grants. And a high priority, one grading system of what projects would get funded, one of the top categories would be congestion mitigation. And there's also been a popular program that has got a big boost as part of the government's transportation package just passed this winter on revenue sharing. For those localities that could generate their own money and are willing to put money up for transportation projects in their own community, the state will match them dollar for dollar. Irrespective of what formulas there are, grant money goes throughout Virginia. If a locality has got a road project that VDOT and the Transportation Board deemed worthy to be in the six-year program, then the state will match them on a dollar for dollar basis. That program now has gone from just a million dollars a year up to ten million. So, the infusion of just about $3 billion over the next three years will be a huge boost for our transportation program. But let me mention in closing, there was an interesting study done by a group called TRIP. I'm not sure what the acronym stands for. It was done in January of this year, and it identified six, it identified along 50 projects, but the top six projects in Virginia carry a combined price tag in excess of $24 billion—that's I-95 from Richmond to Washington, the Hampton Roads Bridge Tunnel, each of those two are estimated at $2.4 billion, widening I-64 from Richmond going down toward New Kent County and Hampton, that's about $2 billion, hot lanes in Northern Virginia, that's $1.4 billion, and then a huge crossing down in Hampton Roads has a huge price tag of $5 billion. And then widening I-64 in the City of Chesapeake and replacing an important bridge down there also is hugely expensive. In maintenance, in closing, Virginia has a law that says you got these two pots of money —maintenance money and construction money. When Gov. Baliles got his package passed, there was more money in the maintenance fund that was needed for maintenance. So, we all said we'll put that money over to construction. And that happened for a long time from the late 80s through the 90s. And then in the late 90s, early 2000, the experts began to see that there wasn't going to be enough maintenance money left over to go into construction. In fact, there wasn't going to be enough maintenance money for maintenance. And that line crossed in 2003. So, it's now been eight years where the state is taking out of construction money belonging in that fund and putting it over to the maintenance fund. It's now to the tune of $500 million a year. So, if we can just fix the maintenance issue, and I think politically that's the most acceptable solution for the General Assembly and the government, if they can focus on protecting the investments taxpayers have made, just doing that, it's still a huge price tag. $500 million a year, 10-cent gas tax. If you wanted to use that example, you would at least stop the bleeding and the erosion of having to use construction money to support your maintenance fund. And you would fill that tank back up on maintenance. And that, in itself, would keep $500 more million a year into the construction program. So, those are the challenges that we face. Business leaders all along came from California to Virginia, and I'm sure it wasn't just the proximity of government contracts in D.C., but also some of the examples Julien gave about Virginia as a business friendly state. A very high official, and I'm not sure if it was Mr. Bush or a CEO, but certainly someone who is the head of the operations in Virginia, said, "Now that we're here in Virginia, gosh, we got a hell of a transportation mess." And then encouraged this very large gathering of 400 or 500 business leaders in Virginia to tackle that issue. And that theme is being repeated more and more, or we're hearing it more. It is one of the criteria that's mentioned. It's not so much the corporate tax rate or the taxes in Virginia, but it is the right-to-work, a number of non-revenue factors like that, and transportation is becoming more and more a part of that discussion.
Tweet
Reader Comments
There are no comments for this entry