Beachhead for business
Resort city's amenities draw new companies
December 29, 2009 6:00 AM
by Elizabeth Cooper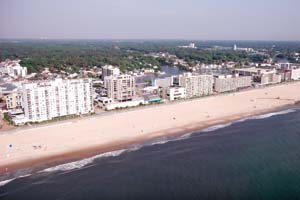 Andrew Finn and his family have lived in Virginia Beach less than six months, but they already feel like part of the community, a sentiment that eluded them during their seven-year stay in the Washington, D.C., area.
"The level of receptivity to young families is fabulous," says Finn, the senior vice president and chief financial officer of Transformational Defense Industries Inc., which recently moved its headquarters from Washington to Virginia Beach's Oceana West Corporate Park. His wife participates in Tidewater Stroller Striders, a group for moms interested in running and jogging, and the family enjoys swimming and exercising at city recreation centers. "It's a wonderful environment to raise a family," Finn says.
With nearly 440,000 residents, Virginia Beach is the commonwealth's biggest city and ranks No. 42 in the country, but residents say it has maintained a strong sense of community more common among small towns. Formed in 1963 from a merger between Virginia Beach and Princess Anne County, the sprawling city of 310 square miles includes horse farms and military bases as well as skyscrapers and beach hotels.
Virginia Beach is perhaps best known as a summer resort area, and tourism remains one of the main pillars of the local economy, contributing $500 million annually to the city's coffers. But Virginia Beach is steadily gaining a reputation beyond its famous three-mile oceanfront boardwalk. Nearly two years ago, the city began an aggressive economic development strategy targeting companies in areas such as science and engineering research, management and technical consulting, information services, high-performance manufacturing, health care and construction. Virginia Beach's economic development office strives to set the city apart from rivals such as Tampa and Jacksonville, Fla.; Boston; and North Carolina's Research Triangle Park.
"We will never abandon the importance that tourism plays in the community or the importance that the military plays," says Warren Harris, Virginia Beach's economic development director. "But, we will diversify the economic base to enhance and expand industries. We're going to look at the types of jobs we want to create and the investment we want for the city's real estate."
The city's abundance of skilled workers (many of whom are former military personnel) and its relatively low taxes were major factors in the decision of Transformational Defense Industries to move to Virginia Beach. The company, which produces firearms for civilian, law enforcement and military markets, was pursued by a number of other cities in Virginia, North Carolina and Rhode Island. Virginia Beach provided a $45,000 grant to help the firm add 5,000 square feet of manufacturing, production and office space to the 4,000-square-foot facility it had leased in the Oceana West Corporate Park for the past three years. The grant also was used to train the additional 35 workers the company has added to its 24-person staff in Virginia Beach.
AvalonBay Communities Inc. also found the attractions of Virginia Beach hard to resist. After a nationwide search of 70 cities followed by a lengthy review of the top three, the Alexandria-based company chose Virginia Beach for its new operations and customer-care center in 2007. The company, a manager of high-end apartment communities, wanted to consolidate accounting and customer-service functions previously housed in offices in Northern Virginia, New York City, Boston and San Francisco. AvalonBay also wanted to move to a city where operating costs were lower. "We chose Virginia Beach for its high-quality and available labor force, availability of suitable office space, low crime and easy transportation," says Karen Hollinger, the company's vice president for operations.
Finding the right office space was essential, Hollinger adds. Virginia Beach had a wealth of office space within a short distance of Interstate 264, which bisects the city. "We didn't have to build in Virginia Beach," she says. "We could choose from 20 buildings right off the interstate with free parking. Virginia Beach quickly became the front runner."
AvalonBay had 130 people at its Virginia Beach center at the end of 2009. Of those, about 10 moved to Virginia Beach from other company offices. "They are very pleased to live near the beach and have a lower cost of housing," Hollinger says. She adds that Hampton Roads traffic, which endures its share of snarls and bottlenecks, is nonetheless, a welcome change for employees who moved from larger metropolitan areas. "Most transferees have a 10- to 15-minute commute whereas it was probably an hour in New York, Boston or Washington, D.C."
Nonetheless, clogged highways remain a frequent source of consternation throughout Hampton Roads, in part because it is linked by a series of bridges and tunnels. (In November, traffic was further complicated by a nor'easter that prompted widespread flooding and caused $70 million in damage.) In response to traffic congestion, light rail is an important component of Virginia Beach's economic development plan. Ten years ago, city voters, fearing higher taxes, rejected light rail. Now, however, a light rail system in Norfolk is set to start taking riders this year. It will run from Eastern Virginia Medical School through downtown Norfolk to Newtown Road just before the Virginia Beach line. There is growing interest in extending the transit system to Virginia Beach. The city is conducting a feasibility study to determine whether it should jump on board. Negotiations are under way for the city to purchase Norfolk Southern's 10.6-mile right-of-way from Newtown Road to the oceanfront for $40 million.
Harris notes that light and high-speed rail could change the way residents work and play in the next decade. "People are looking to lessen their dependence on getting into a car and traveling from one point to the next," he says. "We could use the light-rail system from Town Center to take us into what would be our Union Station at Harbor Park in Norfolk and from there catch a higher-speed rail to go to downtown Washington or downtown New York."
A light rail system could help cement the position of the Town Center of Virginia Beach as the city's focal point. Eventually covering 17 city blocks and 25 acres, Town Center will offer an eclectic mix of shopping, dining, entertainment, office and residential space. It ultimately will include 800,000 square feet of Class A office space and 852,500 square feet of multilevel upscale retail space. The area also includes the four-star Westin Virginia Beach Town Center Hotel and the Sandler Center for Performing Arts. "We have determined that it represents our Central Business District," Harris adds. "That will essentially be our downtown."
While Town Center blossoms, economic development officials also are pleased with the health-care development occurring in the city's Princess Anne Commons area. Sentara Healthcare Systems and Bon Secours have joined forces to build the 120-bed Sentara Princess Anne Hospital, the city's first hospital in more than three decades. Slated to open in 2011, it will join other health and education facilities in Princess Anne Commons, including the Old Dominion University Virginia Beach Higher Education Center, Tidewater Community College's Virginia Beach Campus, LifeNet Health's 127,000-square-foot facility and Operation Smile's headquarters, which is currently under construction. "That has brought about a synergy for us to cultivate a target strategy for health sciences to locate in that area of the city," Harris notes.
ECPI College of Technology is looking forward to the new hospital. The for-profit school enrolls a growing number of nursing students who work with all major hospitals and medical facilities throughout Hampton Roads. "We are an engine for work-force development," says ECPI's president, Mark Dreyfus. The school, which offers associate's and bachelor's degrees, has branches throughout Virginia, North Carolina and South Carolina, but its main campus, with more than 2,000 students, is in Virginia Beach. "We've found that when we try to attract faculty or administrators, it makes it a lot easier when we say to them we have the beach, good climate and access to major markets," Dreyfus says.
The wide range of leisure and cultural activities also helps auto insurer GEICO attract workers to its Virginia Beach office, one of the city's largest employers. "You almost can't beat Virginia Beach from a lifestyle standpoint," says Joe Thomas, GEICO regional vice president. "Within the 11 regional offices in GEICO, we are something of a destination office. Between the bay and the ocean, there are all kinds of water sports. You're not going to get that in Dallas, Tucson or Buffalo."
GEICO's 250,000-square-foot office in Corporate Landing Business Park houses 2,200 employees. They serve the company's auto insurance customers in Virginia and North Carolina and staff GEICO's national power-sports division, which insures motorcycles, recreational vehicles and personal watercraft. The facility also serves as the national military center, handling automobile insurance for GEICO customers who are soldiers or sailors. "We're not done growing," Thomas adds. "This building can hold close to 3,000 associates, and we will continue to grow our operations."
At Transformational Defense Industries, Finn is also expecting growth. "This location is ideal for us," says Finn. "It's very close to the pulse of the free world, and Virginia Beach is rich with a highly skilled and educated work force."
Tweet
Reader Comments
There are no comments for this entry